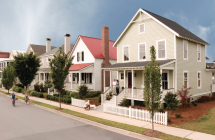 Mixed-use residential development is on the upswing, particularly in urban areas. But before jumping into this market, home builders need to consider the risks versus rewards.
Home staging goes way beyond decorating; it is about creating a mood in the home. But how do you create that lived-in look with a skimpy budget? We ask the experts.
Villebois in suburban Portland, Ore., is designed around a lively town center and features a variety of housing types.
The Gulf Coast housing crisis created by Hurricane Katrina is churning up innovation on a broad scale, and the solutions taking shape in Louisiana and Mississippi may eventually land at your door, wherever you do business.
If you're wondering what kind of product will finally entice buyers back into sales centers, here's our pick.
Some builders still call it the family room, while others have adopted the contemporary term great room. Labels aside, industry experts agree this multipurpose space is here to stay. In modestly priced production homes or high-end custom residences, today's buyers are expecting more from it in function and style.
The new room of the house: merchandising and drafting floor plans for optimal layout placement of home offices.
Building estate communities with floor plan designs that cater to the empty nesters and children.
Working with landscape architects and clients to build decks for functional multipurpose outdoor spaces.
Wall Homes is penetrating the move-up market in the Lone-Star state by including brick, limestone, stone, stucco and dormers into its design mix.
Pages