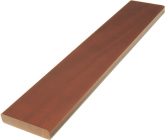 The new 1-inch by 4-inch deck boards in Perennial Wood's lineup—finished in real mahogany—are designed to complement New England outdoor living environments.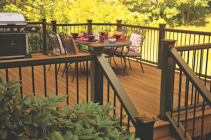 Now available in Dark Walnut, this flat-profile railing option from Fiberon complements both traditional and modern deck designs.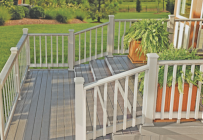 MoistureShield offers up this take on classic wood deck speed railings, now in a composite format.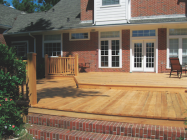 Kiln-dried Cypress Wood & Lumber decking is durable, smooth to the touch, and more stable than pine.
CertainTeed offers three new product lines under its EverNew Deck Collection.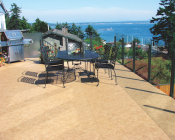 Duradek's newest offerings include three new shades of its Ultra Cork line and a new Panorama Post topless glass system.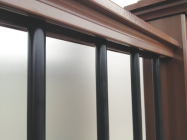 These metal balusters from AZEK provide a stronger, direct connection with deck railings thanks to the extruded screw chase, eliminating the need for unattractive plastic connectors.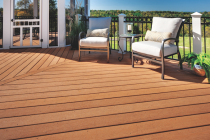 The MoistureShield Vantage Collection from Advanced Environmental Recycling Technologies is an environmentally friendly wood-plastic composite decking line that balances performance and costs while offering green-building benefits.

The EverNew deck collection from CertainTeed includes three styles—EverNew Vinyl, EverNew LT, and EverNew PT—which are all maintenance free, easy to install, and never need painting, scraping, or sanding.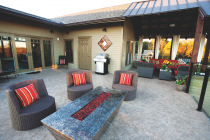 Duradek's vinyl roof membrane doubles as a walking surface and water barrier to protect rooftop decks from water infiltration.
Pages