These wood exterior doors were crafted in partnership between Simpson Door and select architects to bring a contemporary look for a home's entry area.

This series of entry doors from Therma-Tru reflects four different contemporary aesthetics, giving homeowners the ability to customize their entry areas: Eclectically Chic, Mid-Century Modern, Retrospective, and Distinctively Modern.

Installing an interior door with ODL's In-Door Storage and Communication System is quick and easy with this kit, which includes a pre-hung door, jamb system, and the storage system.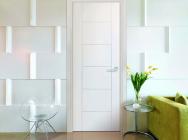 Part of Masonite's West End Collection, this interior door complements the collection's contemporary style.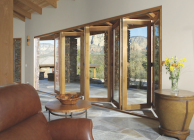 Hurd Windows and Doors has partnered with Vista Pointe Architectural Systems to offer a wider range of patio door products. 

Ply Gem expands its line of design capabilities with the introduction of 38 new exterior color options for the aluminum-clad Mira Premium Series patio door line.

ODL has added two new decorative doorglass designs to the nature-inspired Craftsman and traditional Classic collections.

This new storm door system from Andersen ensures installation takes no more than 45 minutes.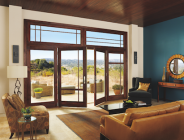 Marvin's factory stain and clean interior finishes involve a multi-step process that takes place before the door is assembled, saving homeowners time, trouble, and the mess of staining and finishing on-site.

The Lemieux Torrefied Collection by Masonite is the first of its kind in the wood door industry to undergo a protective torrefaction process, an all-natural green procedure in which wood is heated over time to eliminate its tendency to rot.
Pages