This new trimboard product is similar to the Versatex Max extruded cellular PVC sheet, offering the convenience of dimensional lumber with different widths for easier handling.
Fypon polyurethane window and door trim can be used on both the interior and exterior of homes, and in commercial projects.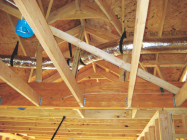 Structural engineer and expert framer Tim Garrison presents his assessment and recommendations from a recent framing inspection.