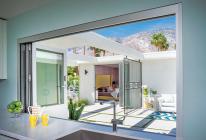 LaCantina Doors Servery Wndow
With a growing demand for an indoor/outdoor kitchen experience, LaCantina Doors developed a functioning pass through kitchen window called the Servery Window. 

Kolbe VistaLuxe Collection 90-degree corner direct set window
After seeing an increase in customer demand for 90-degree window units, Kolbe expanded the VistaLuxe Collection to include one. 

Hy-Lite Bath-Lite Series Storm-Lite Window
Hy-Lite expanded its Bath-Lite Series to include a low-cost hurricane impact decorative glass privacy product.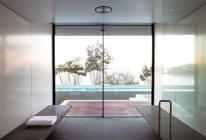 Vitrocsa PURE Window System
Vitrocsa, the inventor of the sliding glass wall, has created a 7/8-inch sightlines, dual-glazed, and thermally broken window system. 
Milgard SmartTouch Bolt SecurityMax
Milgard now offers a secondary lock that integrates into its patio door with no visible fasteners. 
Andersen Windows PowerAssist 400 Series
Andersen Windows released an electric operator enhanced by PowerAssist technology that opens and closes windows at the touch of a button.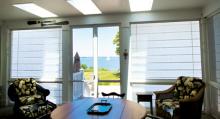 Weather Queen Shades Screen Porch Shades
Weather Queen Shades offers a product to protect your porch from inclement weather and also for muting outside noise.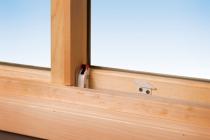 Marvin Windows and Doors Window Opening Control Devices
In response to increasing media and legislative focus on child safety and fall prevention, Integrity from Marvin Windows and Doors designed a product that will improve safety for both issues. 

Silver Line has introduced a new and improved line of windows and patio doors designed to withstand unique coastal weather conditions and help protect homes built at or near the shoreline from the destructive forces of a hurricane and other severe weather.
New styling options from Simonton Windows include exterior colors in cream, brick, pine, chocolate, bronze, tan, and driftwood.
Pages