This exclusive design from ProVia places a pre-finished, furniture-grade wood on the inside of the window with a welded vinyl frame and sash on the outside.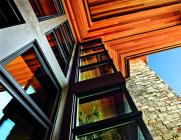 A new window from Marvin Windows and Doors is an ideal product selection for applications where a panoramic view is desired.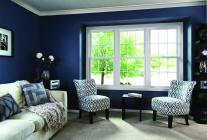 This new product line from Pella Windows and Doors includes energy-efficient options that meet or exceed Energy Star guidelines in all 50 states.

Heat Mirror technology from Eastman Chemical Company creates multiple insulating spaces—without adding weight—that buffer against heat loss or heat gain by suspending from one to three clear films in the airspace of insulating glass.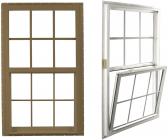 The new colors in Ply Gem's 1500 Vinyl Collection—bronze, clay, and beige—align with authentic architectural styling, while allowing builders to select bold palettes that complement the home exterior.
Marvin's Passive House Institute U.S. (PHIUS)-certified window is available with tripane glass in a 1-3/8 inch profile, or quad glazing with Heat Mirror technology in a 1-inch profile.

Simonton ProFinish Brickmould 600 windows and patio doors have SafePoint laminated glass with an impact-resistant interlayer that makes them ideal for coastal locations. 
The Reflections 5500 series of vinyl windows from Simonton comes standard with ProSolar low-E glass and argon gas fill.

These programmable shades from Marvin are fully integrated into the window frame, maintaining the exterior aesthetic and full views from the inside.

Geared toward homes in the eastern U.S., this new collection from Ply Gem consolidates all of the company's vinyl window options into one platform, with a common sash and sizing.
Pages