California's cooling trend continues while Seattle sizzles, and more
May 25, 2016
Could some of the most in-demand housing markets be cooling off? A recent study from Trulia reveals that the hottest moving housing markets are slowing down, and sellers in cities lagging from the recession are benefitting from quicker absorption rates.
Slowing Down
The Bay Area might be known as one of the hottest housing markets in the country, but homes are sitting on the market longer than they have been in the past few years. While San Jose, Oakland and San Francisco feature impressive demand – less than 42 percent of homes for sale in these metros remain after one month – a deeper look reveals the percentage of lingering listings increasing (Image: Jorge2015 via Pixabay).
In San Jose, the percentage of homes still for sale after one month last April was 35.5 percent. This April, the percentage grew to 37.7 percent, a 2.2 percentage point growth in share of homes still for sale. The median value for San Jose homes for sale is $949,000, as of April.
Oakland had just 35.5 percent of homes still for sale after one month last April. But this year, the share grew 4.0 percentage points to hit almost 40 percent. The median home value is Oakland is $639,000, which reflects wider affordability in the East Bay.
While San Francisco's median home value is an astonishing $1.05 million, the percentage-point difference in share of homes for sale after one month grew the highest of the fastest-moving housing markets at 5.8 points. Last April, just 35.5 percent of homes were on the market after one month, while this April, 41.3 percent of homes were still on the market after the same period of time.
San Francisco hit second and Oakland eighth on the overall list of metros with the biggest slowdown. At the same time, homes in these areas are still moving more swiftly off the market than any other metro in the U.S.
Houston came in at number one for biggest slow down, from 49.9 percent share last April to 66.3 percent share this April, showcasing a 16.3 percentage point difference. The median asking home price in April 2016 was $182,500. Declining oil prices is a major cause of the sluggish market in Houston, and affected the collective slowdown in America's biggest oil towns of Oklahoma City, Tulsa, Fort Worth and Bakersfield. Comparatively, non-oil towns (the other 95 metros) saw a 1.8 percentage point pick-up.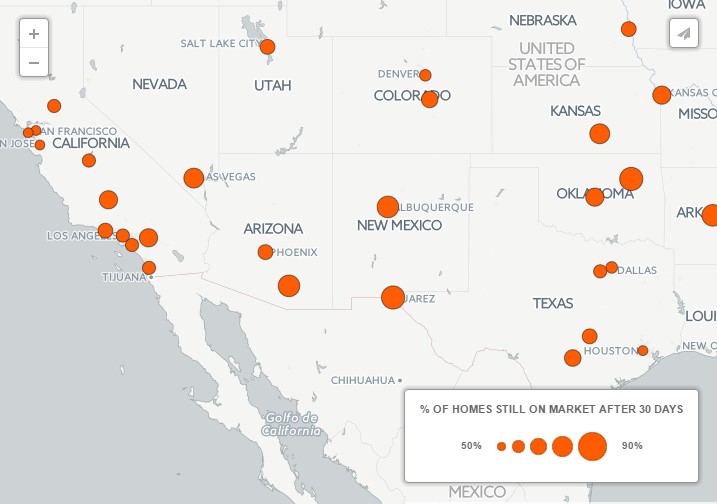 Gaining Velocity
The good news is, some of the markets slower to rebound after the recession are now picking up their stride.
--Seattle, which had 48.2 percent of homes still on the market, now has 43.8 percent. The median home value in Seattle is $424,950, but demand is growing due to the ever-present tech industry.
--Portland, with a median home value of $320,000, is another in-demand city for homebuyers. Year-over-year, the share of Portland homes sitting on the market after one month dropped 5.4 percentage points to 50 percent.
--Tacoma, just south of Seattle, has a much more affordable price point at $262,475, attracting entry-level homeowners to the area. The share of homes sitting on the market after one month moved down 2.9 percentage points over the last year, reaching 52.9 percent of homes.
--In addition, homes east of the Mississippi, albeit not the fastest markets, are showing faster sales compared to last year. In Long Island, where 88.6 percent of homes sat on the market after one month in 2015, dropped 11.7 percentage points.
--Colorado Springs, although still considered out west, saw the second highest drop at 8.8 percentage points to reach 53.2 percent of homes still for sale after one month.
--Charlotte, Louisville, Cincinnati, Kansas City, Chicago, Atlanta, Cleveland and Raleigh rounded out the top 10 pick-up market list. Keep in mind, these markets still aren't moving as fast as some of the coastal cities out west, but illustrate promising growth.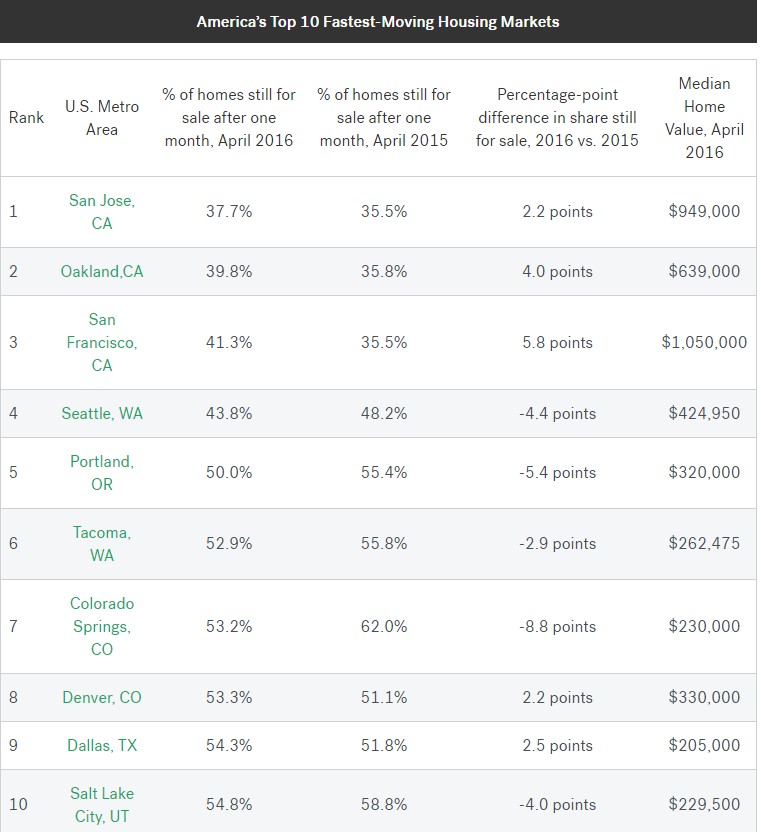 Trulia's Chief Economist, Ralph McLaughlin, explains that homebuyers may benefit from the fluctuations above, depending on the market. Since demand differs, tracking trends on a local level gives both buyers and sellers a better idea of what to expect moving forward. "Home hunters East of Mississippi can still take their time but will need to move slightly faster than they did last year," said McLaughlin. "Meanwhile those in the West won't need to move as frantically as they did last year, but they will still need to move quick to get their dream home."