Shouldn't the custom home builder get the added value of a project for being, well, the custom home builder?
Rod Cullum would just smile when he'd hear a fellow builder brag that a client cleared half a million dollars selling the house the builder had built for them a couple of years prior. The price appreciation was a sort of trophy validation for that builder's product. But if that builder was a typical cost-plus builder with 10 percent markup on, say, a $1 million house where the lot cost $300,000 and construction cost $700,000, that builder perhaps reaped about $70,000 in gross margin. The net return could be much less than that if the builder didn't factor in enough for overhead, warranty, and other costs that pulled money from his pocket. Meanwhile, the real estate agent who sold that house for the owners probably earned as much from the commission alone.
"I think my value added to the deal should be more," says Cullum, founder and CEO of design/build company Cullum Homes, in Scottsdale, Ariz. "I have warranty services, lots of risk, overhead costs ... I think I should be making more money than what a Realtor on commission does, but there are a lot of builders out there making less."
Like Cullum, builder Justin Bauer was doing custom work. His company, Clarity Construction, in the Des Moines, Iowa, metro area, was building one-of-a-kind homes, but in a manner that he felt left too much control of the margin to the whims of subcontractors' bids and the disposition of the client.
Both builders have since aimed to taken more control of their companies' future growth and profitability with business models that break from the custom-building norm of providing buyers whatever they want.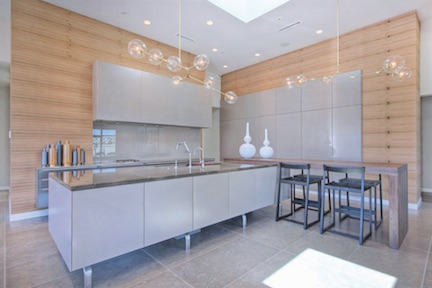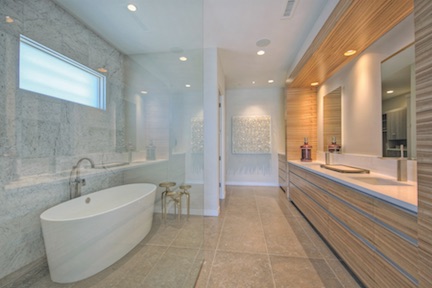 Top and above: The model home at the Village of Mountain Shadows is how Cullum Homes, in Scottsdale, Ariz., retails custom-built homes. Once  prospects "touch our product and get to know us, our likelihood of being their builder is very high," CEO Rod Cullum says. Photos: Courtesy Cullum Homes
Working Backward: Cullum Homes
Only a few short years after starting his company in 1985, Rod Cullum reached the conclusion that the home building industry was broken.
He began as a custom home builder, but when the savings and loan crisis hit, he switched to production home building for a brief stint. For a fee, he took over half-built subdivisions from the thrifts, built out those communities, and managed the models and sales. Three years later, he returned to building custom homes and brought with him a production construction mentality. That perspective opened him to the possibility that there had to be a better way to run a business than the usual dance of waiting for the phone to ring, drawing a house for prospective clients, proposing a budget, and then trying to convince homeowners to pick you to be their builder. If the homeowner did select you, you'd then be in a race to the bottom on cost, soliciting bids from multiple subcontractors and then beating down each one to cut their price.
One lesson Cullum learned on the way to reinventing Cullum Homes was that if you own the land, you own the deal. When clients owned the lot, they could dictate the layout, pick the architect, and bid out the design to other builders. But when Cullum owned or controlled the lots, he could build his home with plans that were suited to the property, he could pick the architect, and clients would have to choose him as the builder if they wanted to build on that land.
A second pillar of Cullum's reinvented business model was inspired by an observation. Occasionally subs would ask Cullum if he could help them meet payroll by paying early because other builder customers didn't pay. Cullum, a former banker, often fielded financial queries from his trades, but this time he wanted to dig deeper to find out why they were unable to get ahead with cash flow.
"It's interesting that a lot of trades are good craftsmen, but they really don't understand what their margins are," Cullum says, "and a lot of custom home builders are in the same bucket. They don't understand the cost of doing business. Unfortunately, there are a lot of trades that say, 'I have money in my checking account, so I must be doing well.'"
Cullum set out to ask his trades how they price a job. Do they make money at that price? How do they figure out their cost for materials? Did they figure in a margin with their bids or were they cost-plus contractors? Some of his trade partners, after doing the math, realized they were merely clearing a wage on their jobs.
Simultaneously, Cullum was in the beginning stages of unitizing his costs. He didn't set out to do so; it just happened organically. But he was able to convince his trades to be transparent by helping them see there was value in knowing they would have his business every time rather than chasing after each individual Cullum project with bids. Every trade partner Cullum approached agreed and in turn gave him a better price.
"I said, 'I really want to use that stucco guy, that concrete person, for every single project instead of racing around each time getting bids,'" Cullum says. "So why don't I sit down with the best people I want to work with and help them understand their business better? Usually these are small contractors doing custom stuff. They're the same guys doing takeoffs on their dining room table or in their small office, instead of being with their kids and family on the weekends."
The Cullum Homes staff in 1995 consisted of Rod, his wife, Kim, an architect, and an office clerk. The process of compiling, for example, the square footage cost of building materials such as concrete, stucco, and tile, and then combining these figures with the trade partners' pre-negotiated charges for labor, waste factor, and overhead was an enormous task. It took Cullum about three years to complete, but he built the database to a point that enabled him to execute another pillar of his business model that would distinguish him from the traditional way custom home builders market their product: He works backward.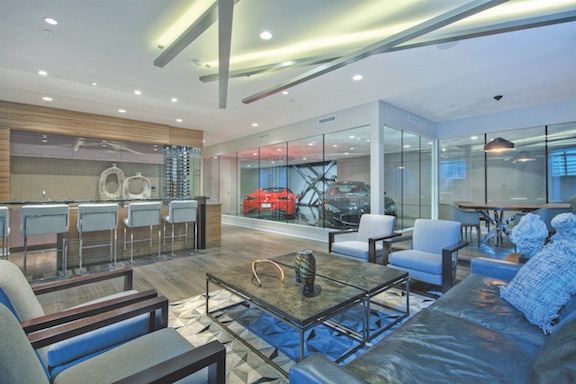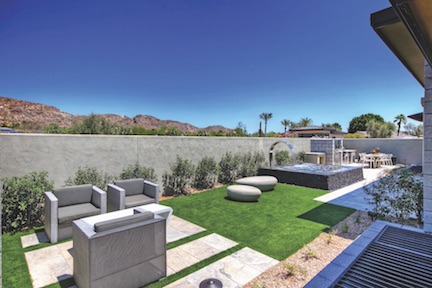 Top: The car bar is one of the flex space options Cullum Homes buyers can select, in addition to a game room, wine cellar, or extra bedrooms. A motorized lift moves cars between the ground-level garage and basement showroom. Above: An outdoor living area designed to captivate buyers in the Phoenix market. Photos: Courtesy Cullum Homes
Instead of trying to keep step with the custom home dance as earlier described, Cullum now starts clients with a detailed spec sheet but no floor plan. Clients tell the builder how many rooms they want and the size of each room, and they pick finishes for flooring, the ceiling details, cabinetry, number of can lights, and so on. The builder can figure out the square footage of stucco, concrete, tile, and all of the other components that will go into the house.
"We go ahead and populate everything as a placeholder, and because I have a unitized pricing relationship with all my trades, with what I input into our system, I can tell a homeowner that the house they just described will be 5,150 square feet and will cost them $2 million," Cullum says. The homeowner will agree or will counter that they just want to spend, say, $1.5 million. "In order to spend $1.5 million, we then have to change some things," Cullum says. "The size may have to drop to 4,500 square feet or you may have to give up some things to get there."
Yet another pillar of Cullum's business model is one that relieves the pressure to advertise and get your brand out in the market so the phone will ring. Here, the builder of unique custom homes uses fully furnished models.
Situated between Camelback and Mummy mountains is The Village at Mountain Shadows, a 10-acre community of 40 one- and two-story residences designed by architectural firm Candelaria Design Associates, in Scottsdale, and being built by Cullum Homes. Two model homes stand on the north end and visitors can see the homes' unique offerings, such as Trutankless water heaters, Daikin air conditioning, and basement space with the flexibility to add a game room, wine cellar, additional bedrooms, or even a car bar—a wall-to-wall glassed area where automobile enthusiasts can show off their collection thanks to a motorized lift that moves cars between the ground-level garage and basement showroom.
Cullum says clients like to touch and feel product so they know what they're buying and how they're buying it. "We have that model home so we can get nose-to-nose and toe-to-toe with customers because once they touch our product and get to know us, our likelihood of being their builder is very high," Cullum says.
Most of the time, the selling price of Cullum's homes comes in near what the clients budgeted, bar any change orders. Cullum rarely deals with cost variances because his unitized pricing system provides consistent, accurate building costs. The builder buys most materials direct and meets with trades every six months or so to review and revise pricing and pre-negotiate figures for the next cycle. Regarding profit, Cullum says his margins are in the top echelon for what the National Association of Home Builders recommends custom home builders should be realizing, which is between 25 to 30 percent gross margin.
Today, Cullum Homes has 55 employees and annually builds about 20 ultra-luxurious million-dollar homes either on lots it owns or on a handful of spot lots. The builder is starting a 33-lot project in Desert Mountain, almost 30 miles from Scottsdale—too far for Cullum's subs based in Scottsdale. Cullum's son, Brad—Cullum Homes' COO—is charged with developing relationships with trades in the Desert Mountain market and implementing the system of unitized, pre-negotiated pricing.
"It sounds difficult to do, but once you're doing it, it's actually easier than the traditional way of doing business," Rod Cullum says. "I say to my contractors, 'You're not going to get wealthy on me, but I'll help you pay your overhead. I'll help you sleep at night. You've got all my business as long as you meet my standards and keep your prices at this point, and we're going to take care of each other.' That relationship has really high value to the trades because you're not having them waste any time. And to me, bidding is wasting time."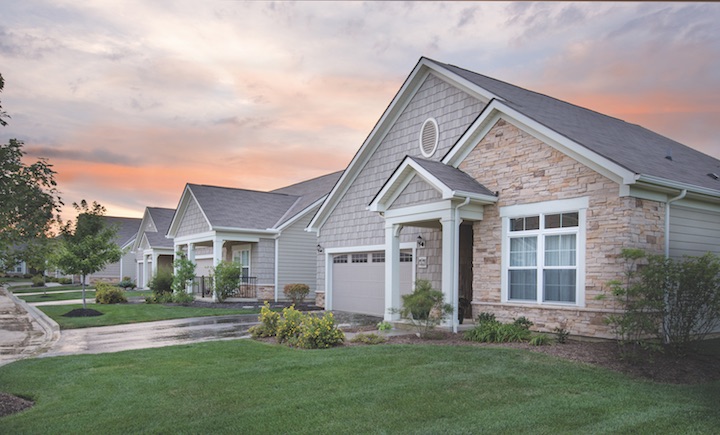 Becoming an Epcon Communities franchisee has enabled some custom home builders, such as Justin Bauer, in Des Moines, Iowa, to scale up operations and diversify their businesses with production-built single-family plans targeting the 55-plus demographic. Photo: Courtesy Epcon Communities
The Franchise Model: Epcon
Justin Bauer had been building custom homes­ in Des Moines, Iowa, long before he started his custom home company, Clarity Construction, in 2008. It was a good business. He finished a handful of high-end houses each year and some sold for as much as $3 million.
Then Bauer heard a Pew Research Center statistic that grabbed his attention: Every day since January 2010 there have been 10,000 Baby Boomers who turned 65 and retired, and an additional 10,000 more will reach their 65th birthday every day until the year 2030. By then, 18 percent of the nation's population will be at least that age compared with 13 percent in 2010. According to figures released during mid-2017 by John Burns Real Estate Consulting, more than 60 percent of people shopping for a home are older than 55. That's 62 million households with a net worth of $488 million.
Bauer decided that, to fuel future growth, he should focus on product for 55-plus buyers. He had every intention of using his own floor plans and executing his own marketing strategy, since he's been building and selling since 2001 and knows what he's doing. But as Bauer expressed his interest in catering to this demographic, an industry acquaintance suggested he check out Epcon Communities Franchising. Bauer was skeptical but did his due diligence by talking to builders who were Epcon franchisees. They reported a good experience, so Bauer eventually traveled to Epcon's Columbus, Ohio, headquarters to meet Epcon founders Edward Bacome, CEO, and Philip Fankhauser, president.
Epcon was founded in 1986 as a builder and developer of homes in central Ohio for mature, active adult buyers. It launched as a franchising business in 1995, offering copyrighted architectural plans and a support system for building communities of single-story two- and three-bedroom homes. The designs were created by architects based on years of market research about what Baby Boomers want in a new home. The effort resulted in floor plans suited for the desires and needs of mature buyers, from widows to recent empty nesters. Today, Epcon has built 30,000 homes in 375 communities in 28 states. Ranked by revenue, it is No. 49 in Professional Builder's 2017 Housing Giants ranking of the nation's largest builders and No. 26 of the largest private builders.
"I was speaking to a custom builder in California who had been in the business for 40 years," says Jad Buckman, Epcon's business development manager. "He said to me, 'I've had 40 years of the same one-year experience over and over again.' He was getting at his frustration with dealing with change orders, every house being different, and when you finish building one, you have to go out and find your next one. There is a deep craving among these guys for the production model. Our houses are customizable, but we're not totally custom. Our guys can build the same product over and over."
Another appeal of the Epcon approach for custom builders is they don't have to kill their brand, Buckman says. They can keep their company name and continue constructing custom homes if they want. In many instances, becoming a franchisee and implementing processes and systems in their operations has enabled custom home builders to diversify and scale up their volume, which would have been difficult with their previous business model. For many franchisees, building Epcon communities became the principal part of their business because the construction cycle is more efficient and homebuyers can go from contract signing to move-in in as little as 90 days.
Epcon's recommended criteria for franchisee applicants is that they can secure a construction line of credit of at least $5 million and have  a minimum of $500,000 in liquid capital and a net worth of $1.5 mil­lion. Ideal applicants need not have a home building background, but experience in a small business and dealing with profit and loss management is a plus. The vetting process also includes a face-to-face meeting with Epcon managers to confirm that the applicant's goals and objectives align with Epcon's mission for delivering quality to customers, of valuing employees, and sharing a belief in training.
Franchisees pay an initial $50,000 fee. Other ongoing charges include a monthly franchise fee, a monthly marketing program fee, and a 1.75 percent project royalty fee on the purchase price of the home with each closing. That percentage declines as the franchisee sells more homes. Unlike franchise contracts in other sectors such as restaurants, which can last for years or even decades, the Epcon franchise ends when the builder's development is sold out. Then the builder can ante up for another franchise to develop another community.
In return, franchisees get financial modeling assistance, including detailed operating budgets, material and labor contracts, pro forma bank statements, and human resources. On the development and construction side, they receive training and manuals with detailed scopes of work, processes, and operations for project planning, scheduling, and controlling construction costs. There also is access to other franchisees for best-practice recommendations through an intranet or a simple phone call.
"They really care about each other's success," Buckman says. "It's the most healthy system from a franchisee's perspective for interpersonal relationships that I've ever seen."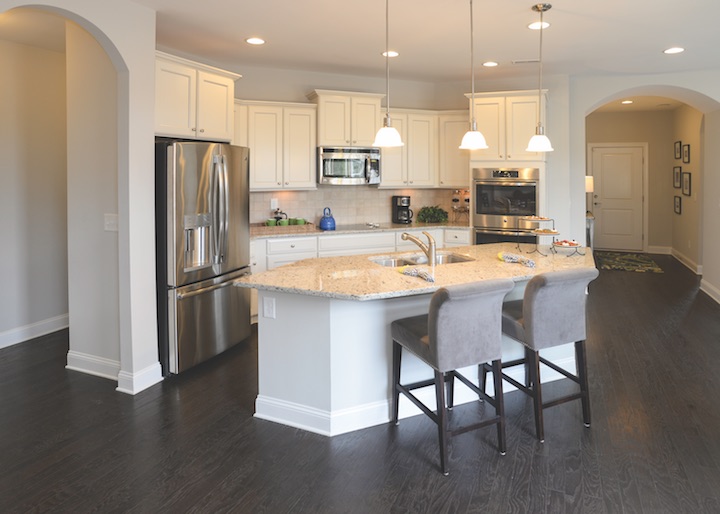 An open, centrally located gourmet kitchen adjacent to the dining and living rooms is among the design touches that Epcon Communities Franchising incorporated into its floor plans following findings from extensive market research about what Baby Boomers want in downsized new homes. Photo: Courtesy Epcon Communities
Market intelligence is among the benefits that stand out for Bauer. Epcon has deep knowledge about mature-buyer demographics, psychographics, and metrics from decades of experience and research on the efficacy of posting signage near your property, online targeting, geofencing, and advertising in traditional media. The sales and marketing toolbox also includes resources such as a sales center presentation gallery, virtual tour software, and access to training from nationally recognized sales experts such as Jeff Shore.
Also, Bauer adds, "[Epcon has] been tweaking plans for more than 30 years, and I always say you learn more from your mistakes than you do from your successes. I get to take advantage of what they learned from their mistakes, and that's valuable."
Bauer's company Midwest Development Partners, which uses the Epcon franchise model, broke ground on its first community in Ankeny, Iowa, in fall 2015. Bauer has since sold 33 houses in the 83-lot development and 25 owners have moved in. He also started a 93-lot development in nearby Clive and presold four units there.
"It's just a better business model for me," he says. "I get to make money off the development side and the building side. I even hired my own employees instead of hiring Realtors, and we do the list side ourselves. I'm making as much on these homes as I did on some of my much bigger custom homes. You know what your margins are and have better control because you're building units over and over again. You're centrally located instead of driving all over to build custom. It's a great business model for us."
For now, Bauer says he'll build a custom home if one falls in his lap, but his primary goal is to build 1,000 homes around Des Moines targeting 55-plus buyers during the next 10 to 15 years. 
Home builders, BPMs, and real estate investors are adjusting their business strategies to overcome a market slowdown. Here's what they're doing differently... 
Four female panelists discussed strategies to create a healthy and inclusive workplace at Fortune's Most Powerful Women Summit last week 
Employees who are invested in the company's success may one day make the best leaders. That's where employee stock ownership plans (ESOP) come in