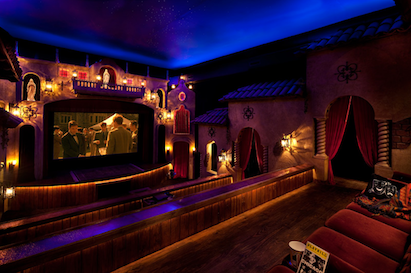 Not so long ago basements were merely utility space, but those days are gone. Two projects presented in the September edition of Custom Builder include basements that figure prominently in their respective plans.
In Florida, where the water table is notoriously high, a custom-home site was abandoned midway through the design phase because a rare hillside lot became available, allowing the client, architect, and builder to create a walkout basement. But this was not just any walkout basement. It includes a home theater designed as a replica of a historic Tampa theater, complete with a domed ceiling. To accommodate the dome, an additional 9.5 feet of excavation was required, which was both tricky and expensive. But in the end, the client got what they wished for—a dream space.
More than any other part of a custom home, basements are a blank slate. Basements offer builders, architects, and clients the opportunity to create spaces that are daringly unique—a 180-degree turn from their utilitarian origins. Luxury basements have blurred the line in what traditionally has been deemed living space. Most municipalities (and Realtors) do not include basements in their square-footage calculations. A 4,000-square-foot house is typically defined as non-basement, conditioned space; porches and outdoor rooms also don't make the cut.
But this mindset is changing. Smaller lots, like the 80-by-150-foot site featured in the Newton, Mass., project, also in this issue, have floor-area ratio maximums that push needed living space into lower levels. Indeed, basements are integral to the success of the overall solution. And this trend is nowhere near played out.
A 9,000-square-foot custom home on an urban 100-by-200-foot lot in Illinois was recently built for $410 per square foot minus land, which was $1.9 million. The architect and builder were able to get that magnitude of living space by digging a basement with 10-foot ceilings. So important was the added basement space to the overall program that they engineered a sloping staircase up from the basement and out to the backyard pool.
Basements have come a long, long way.