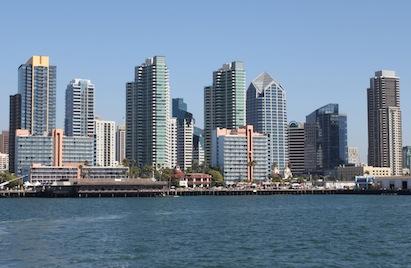 I had the distinct pleasure of attending the first Pacific Coast Builders Conference (PCBC) ever held in San Diego. Previously, it had been staged in San Francisco for more than 50 years. I was not sure what to expect this year, but the combination of a new venue and an improving market certainly netted a positive result. Like PCBC conferences of old, the energy was back and spilled out of the education sessions onto the exhibit floor and into San Diego's Gaslamp District—where a host of dinners and networking events were alive with talk of land deals, hot-selling communities, and new products. Here are some takeaways.
1.
California home building is an industry and eco-system that is a world unto its own. Because of its large and diverse economy, and its ability to attract immigrants from around the world and grow new jobs, California has been a thriving market for new homes since World War II ended. With excessive land-use controls and tons of state and local regulations, doing business there can be incredibly challenging and rewarding. Perhaps it is the shared experience that drives builders and suppliers to band together more closely than in other parts of the country. 
2.  For builders and designers, California is a muse. The Gold Nugget Design Awards competition, which held its 50th annual competition, has only very recently opened to builders and architects nationwide. It is still dominated by Californians and their projects. For all of its thriving diversity, California's wide range of buyers and locales makes it an incubator of design ideas that start here and make their way to other markets. John Thatch, AIA, of Dahlin Group, was commissioned by a client in Florida to build a massive California Mission-style home because "only a California designer would know how to pull it off." That same home was awarded custom home of the year at the Gold Nugget ceremony.
3.
Millenials are poised to reshape the industry. For decades builders have been adjusting to the wants and needs of Baby Boomers. As Boomers age and move down, and live longer than any preceding generation, they will continue to be a new-home demographic targeted by builders. But the talk of the show was Millennials, a generation that is only now emerging into their careers after being delayed by the Great Recession. Numerically they are a bigger group than Boomers but their housing preferences are not yet well understood. Something of the future was seen in the Gold Nugget Home of the Year, designed by Woodley Architectural Group, Inc., and built near San Diego by Ryland Homes. It is a fresh take on the post-and-beam California Modern style of architecture built by Eichler Homes in the 50s and 60s. This home (found at goldnuggetawards.com) advances beyond this concept by offering a structure that comprises two flexible wings, enabling a builder to tailor the structure to fit different shaped lots and buyers with different wants and needs.
Perhaps the best advantage of having a PCBC located in Southern California was its quick access to many of the new model homes that have been built and opened in the last 12 months. Editor Mike Beirne and I had the pleasure of touring Pardee Home's model complex at Alta Del Mar with Aram Bassenian and Dave Kosco of Bassenian Lagoni Architects, which designed the project. Residence No. 3 at the project won the Gold Nugget for best residential project of the year. This project, halted for a time during the Great Recession, is selling well at a $2-million price point (only in California). The proportions of the home and its details represent what is best in new-home design today. The plan to alternate PCBC between Northern and Southern California for the foreseeable future will allow conference attendees to tour much of what is new in California building. I am looking forward to it in 2014.