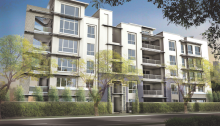 460 Palm's crisp, cool modern exterior uses a color palette of white, off-white, and shades of silver, gray, and blue. The exterior blends stone, smooth stucco, and aluminum cladding and accents. [Illustrations: Bucilla Group Architecture]
ETCO Homes has found its sweet spot: luxury condominiums built on infill sites in Beverly Hills, Calif.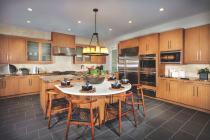 Homebuyers who aren't keen on contemporary interiors will often embrace transitional decor. This kitchen at Truewind, a community in Huntington Beach, Calif., by TRI Pointe Homes, illustrates the transitional look with warm wood cabinets and slate-gray flooring. [Photo: TRI Pointe Homes and Applied Photography]
Contemporary design is subject to a wide range of interpretations, from transitional suburban homes to edgy urban multifamily. We explore its most recent evolution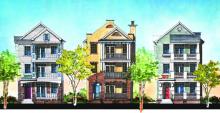 House plans that can accommodate the varied definitions of today's family.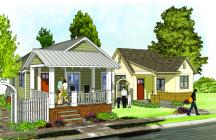 House plans that are in harmony with small-home neighborhoods, summer retreats, and weekend escapes

A fresh twist on the Moorish charm of Spain's Alhambra Palace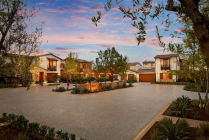 Brookfield Residential and architect SDK Atelier employed an innovative piazza
concept at La Vita at Orchard Hills where homes are clustered in groups of four
around shared motor courts. The courtyards also serve as community gathering spots.
Photos: Eric Figge
At La Vita at Orchard Hills, Tuscan-style homes clustered around small piazzas bring a little Italian flavor to Orange County
Pages