Berkshire Hathaway subsidiary Clayton Homes buys Middle Tennessee homebuilder.
By By Mike Beirne, Senior Editor | April 29, 2016
After being courted by national builders during the past several years, Goodall Homes was acquired for an undisclosed sum by Clayton Homes, a Maryville, Tenn., subsidiary of billionaire investor Warren Buffett's Berkshire Hathaway.
The deal includes Goodall's holdings of about 3,600 lots and 180 houses under construction in a five-county area of Middle Tennessee. Bob Goodall Jr., president and founder of the Gallatin, Tenn.-based company, and his management team will stay on in their respective positions.
 "This acquisition will help our employees, trades, suppliers, and our families continue on this path of growth for years to come," Goodall said in a written statement. "Goodall Homes has developed many great leaders and this will provide many possibilities for our team members. We are honored to be on the Clayton team and to contribute to the continued success of Berkshire Hathaway."
Goodall started his company in 1983, following in the footsteps of his father Bobby Sr. The builder, which was named Professional Builder's 2014 Builder of the Year (click here to read "Small Builder Wins Big"), closed on 436 homes in 2015, ranking second in the Middle Tennessee market, and generated $140 million in revenue. Goodall expects to close 440 houses this year.
Goodall townhomes in the Shadow Green neighborhood in Franklin, Tenn.
The builder of single-family homes, townhomes, and condominiums has seen its growth almost triple since posting 147 closings in 2009 thanks to expanding land holdings, adding product lines, and hiring experienced senior managers from national builders during the recession. But the big growth engine started taking shape when Goodall and Keith Porterfield, chief operating officer, began transitioning the company culture just before the housing market crash. They adopted an open-book management style where managers regularly share financial statements with employees and teach workers how the business makes money.  Senior managers fostered a work environment in which self-directed employees identified problems and implemented solutions in areas such as marketing, purchasing, customer satisfaction, all in the context of attaining profit sharing goals. 
Goodall's culture is similar to Clayton, which also is an open-book-management company. Clayton Homes was founded in 1956 and, with more than 34,000 homes built last year, is one of the country's largest builders of manufactured and modular housing.  Clayton entered the traditional home building market last fall by acquiring Chafin Communities, in Buford, Ga., and formed site-building arm Clayton Properties to expand its portfolio of housing options to homebuyers.
"Adding great builders like Goodall to our team is exciting. As we continue to grow and expand into the site-built market, it is important to partner with teams that share our culture of providing an excellent customer experience," Keith Holdbrooks, Clayton home building group president, said in a written statement.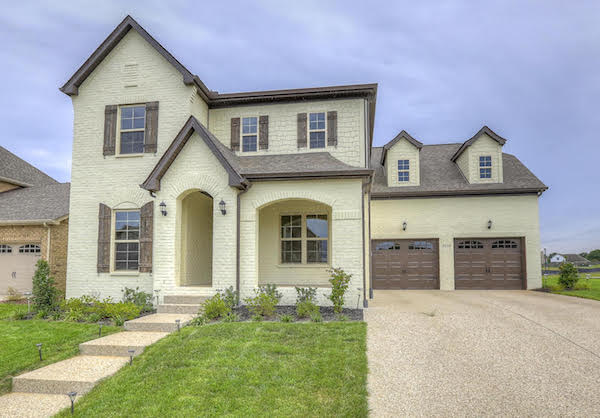 Single-family home in Rizer Point neighborhood in Franklin, Tenn.