Reducing Air and Moisture Leakage Risks
Air and water are sneaky: they can get through the most minor breaches in a building envelope and navigate very tiny pathways to get into a building. Water can cause several kinds of damage if it gets into the walls and can travel surprisingly far, spreading that damage around.  Air leakage degrades the efficiency of the building's temperature control system, increasing HVAC costs, energy consumption, and the carbon footprint of the building.  To deny entry to both these intruders, a good weather-resistive barrier (WRB) is a necessity in every exterior wall.
But a WRB is only as good as its continuity – even at panel seams and around openings or penetration. No matter the material, if it has openings, water and air can find their way through. A variety of flashing solutions are used to maintain the integrity of the water-resistive barrier at these areas vulnerable to leaks. Tapes and liquid flashing materials are among the most common, but not every sealing solution provides the same type of bond and protection.  What's more, openings and penetrations can pose a challenge for even the savviest of installers because of the need to properly seal tricky curves, corners or tight architectural details.
One of the newer flashing materials on the market is ZIP System™ stretch tape. Made of an advanced composite acrylic, it stretches in all directions to help reduce risk of mis-installation by covering hard-to-flash areas with a single piece, compared to taping individual straight tape pieces together.  ZIP System stretch tape is compliant with AC148 and meets AAMA 7113-13 performance standards for self adhering flashing as represented in IAPMO ER-365.  The unique stretchable material is repositionable and can be applied in temperatures as low as 20 degrees and as high as 120 degrees, making it an easy to use material in a various jobsite conditions.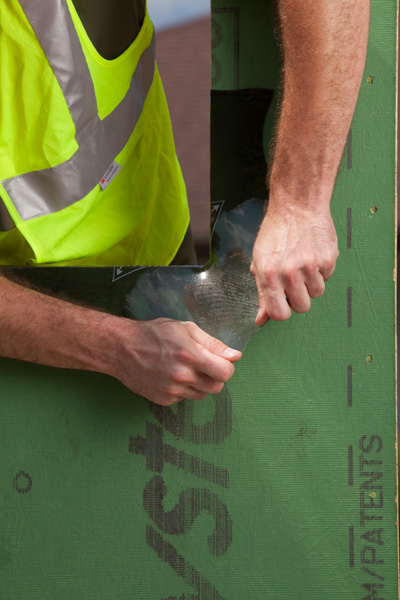 As part of the ZIP System® sheathing and tape family of products, ZIP System stretch tape comes with a 180-day exposure guarantee and is backed by a 30-year warranty, when used with ZIP System sheathing. Like the straight ZIP System™ flashing tape used for sealing panel seams with ZIP System sheathing, ZIP System stretch tape installations include recommendations for rolling the tape to create an optimal bond and reduce risk of creating fish mouth or creases and air pockets that could lead to openings for water to creep in. Available in 6-inch and 10-inch widths, the stretchable flashing tape is useful for a variety of window assemblies.
Fluid-Applied Flashing
Another option for sealing complex areas is fluid or liquid-applied flashing. Liquid-applied flashing is particularly useful in deep wall assemblies or with recessed windows, because they provide great control for hand-application directly into the tightest creases and corners.  ZIP System™ liquid flash made of STPE (silyl-terminated-polyether) combines the durability of silicones with the strength of urethanes to provide optimal viscosity for ease of installation and a quick curing time with tack-free, weather resistant finish in as little as 20 to 40 minutes. With the ability to bond to a wide range of surfaces from wood and concrete to PVC and glass, it is used in a variety of project types. The product passes ASTM E331 and ASTM E2357 tests for resisting air and water penetration.
Optimizing the WRB
A properly sealed WRB is good protection not only for the building itself, but also for the contractor. A common construction defect in litigation complaints is water penetration around windows. A carefully installed flashing system can save time and money on re-works, and lower a contractor's risk. To avoid water-damaged walls, drafty buildings, and lawsuits, next-generation materials developed to effectively manage water and air leakage, while providing ease of installation can be a risk-reducing measure specified during design and to optimize rough dry-in schedules. Waterproof, airtight building envelopes are instrumental to the success of today's high-performance buildings – even down to the nooks and crannies.