Blythe Beaubien, marketing manager for Earth Elements, talks about the genesis of the design center and what sets it apart
By By Susan Bady, Senior Editor | June 6, 2016
The Earth Elements Design Center was welcomed by homebuyers and builders alike when it opened in Bozeman, Mont., in 2013. A second location is now open in Whitefish, Mont. At press time, the company was planning to open a third showroom in Jackson, Wyo., and is scouting other locations in that region.
Blythe Beaubien, marketing manager for Earth Elements, talked to DI about the genesis of the design center and what it brings to the table. Tim Rote, co-owner of Dovetail Construction, in Bozeman, builds custom homes and small commercial projects, and is a happy Earth Elements customer.
DESIGN INNOVATION: What's the history of Earth Elements Design Center?
BLYTHE BEAUBIEN: The business was started in 2013 with just five employees and 2,500 square feet of space. Entrepreneur and tech industry professional Steve Taylor and his contractor, Ben Jones, started Earth Elements after Ben completed construction of Steve's home in the very exclusive Yellowstone Club in Big Sky, Mont. Steve realized there was a lack of resources in the area for a wide range of choices in fine-home finishes under one roof.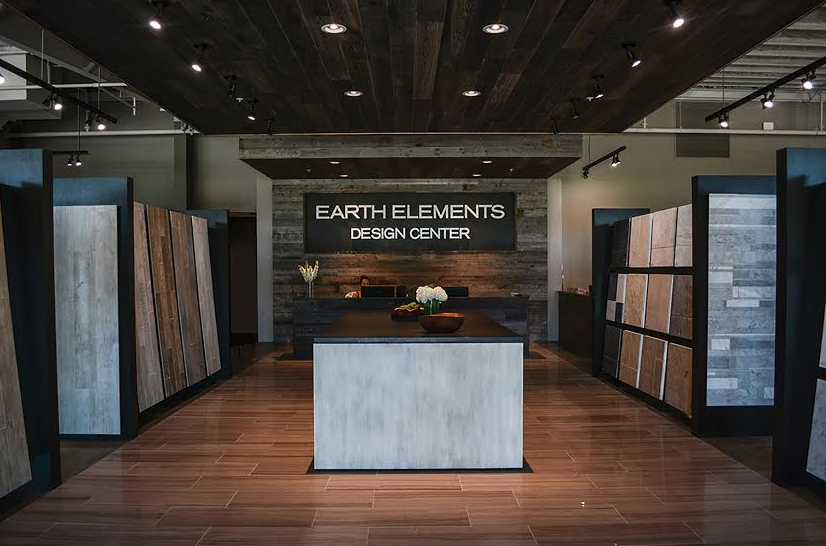 The 12,500-square-foot showroom is open to the public as well as builders, remodelers, architects, and designers.
DI: It sounds like the business expanded rapidly in just three years.
BEAUBIEN: It certainly has. We now have 85 employees and 12,500 square feet of showroom space. All of our custom cabinetry is made in Bozeman on site, in an area behind the showroom.
DI: Give me an idea of the offerings at the design center.
BEAUBIEN: It's a one-stop shop for home finishes, including tile, wood flooring, marble and granite slabs, appliances, door hardware, plumbing fixtures, cabinetry, and more. We have a talented group of professionals to help clients design a new dream home or renovation from start to finish. There's a wide variety of interior finishes to suit every taste and budget and it's all under one roof, making the design selection process easy and seamless.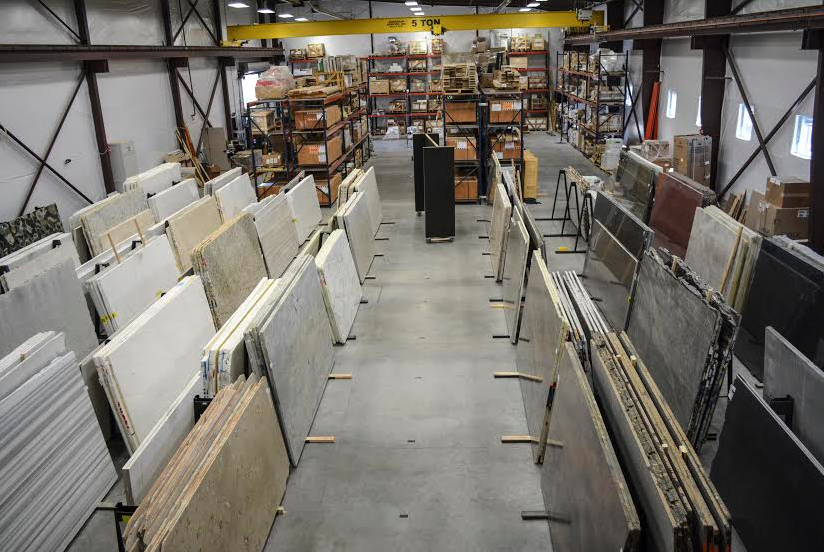 Earth Elements fabricates granite and marble slabs in a facility near the showroom, and also handles installation.
DI: By "every taste and budget," do you mean that there are products and materials for everyone from the entry-level home buyer to the ultra-high-end, custom-home client? Is the showroom open to the public?
BEAUBIEN: Yes. And we work with all types of housing professionals, including builders, remodelers, architects, and designers.
DI: Do you source anything from overseas?
BEAUBIEN: No, with one exception: we import items from Kreoo, an Italian designer and manufacturer of custom marble bathtubs, sinks, vanities, furniture, and floor- and wallcoverings.
DI: Some design centers have relationships with one or two suppliers for each product category. How does this work with Earth Elements?
BEAUBIEN: There's a complete list of brands, vendors, and suppliers, on our website, but just to give you an idea, we offer tile from Arizona Tile, Daltile, Quarry Collection, Walker Zanger, and Porcelanosa. Plumbing fixtures and fittings include Watermark, Graff, and Kohler. We also have Baldwin, Sun Valley Bronze, Philip Watts Design, and Turnstyle door hardware. And we source products from international vendors such as CEA, Dornbracht, Fantini, VOLA and more. 
DI: As a home builder, Tim, what's the advantage of working with Earth Elements?
TIM ROTE: Everyone is so pressed for time these days that it certainly helps home buyers to be able to visit just one location to make their selections. At Earth Elements, our clients can see numerous options, and often they're cutting-edge options.
Earth Elements helps us run a very organized and competent finish selections and installation process. They're very professional, they stand by their work, and they're pleasant people to deal with.
Each of our homes is so unique and special that the clients have important demands and expectations. It's extremely valuable to have a company like Earth Elements in our community amongst many devoted and skilled craftsmen and tradespeople. They're always out looking for unique and beautiful materials to add to an already vast array of options.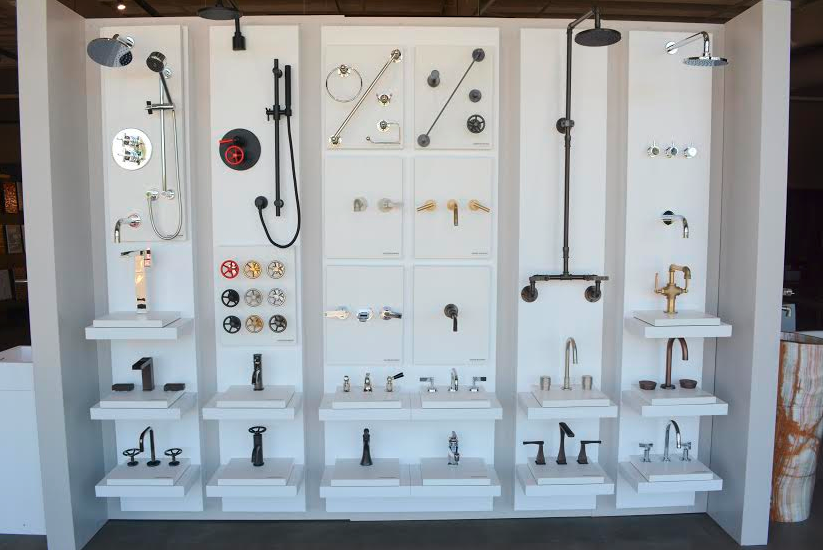 Earth Elements Design Center features a wide range of finish options from different vendors and suppliers. Shown below is a display of plumbing fixtures and fittings from Rohl.