Ensuring that high-performance construction continues to thrive involves a commitment to your business — and to mentoring a new generation of builders
By Sam Rashkin, Chief Architect Building Technologies Office, U.S. Department of Energy | September 3, 2015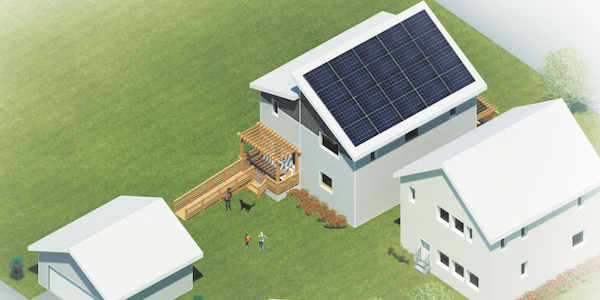 At the Building Science Symposium in Westford, Mass., last year, I began my talk with a poll asking how many of the 400-plus building science experts in attendance were over 40 years old. About 85 percent raised their hands. Then I said, "Keep your hands up if you're over 50." About 75 percent of the hands remained up. Finally I said, "Only keep your hands up if you're over 60." About 60 percent of the hands stayed up, including mine.
That's scary. Not the over-60 part—personally, I'm fine with that. What's troubling is that, while the community of professionals committed to building science and high-performance homes is getting on in years, we're not filling the pipeline with successors. A diminishing workforce that possesses core competency in critical building science skills is nothing short of a crisis in the world of high-performance homes.
It's a potential crisis for your business, too. To effectively meet homebuyers' increased energy-performance expectations, you need to be certain that the folks you hire understand critical details associated with energy efficiency, durability, and occupant health and safety. You also need to know that your designers have enough training to spot design flaws that can lead to moisture intrusion or poor indoor-air quality, for example. Finally, you need to know that your construction managers can spot installation defects.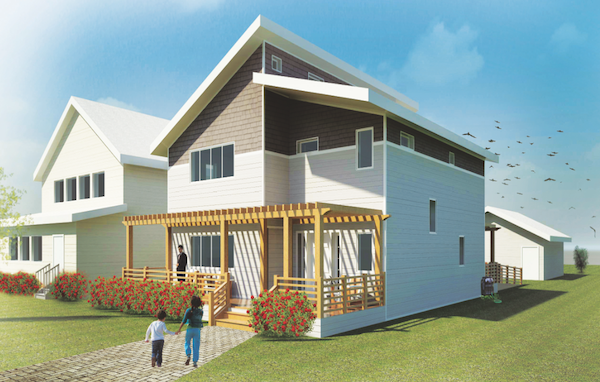 Addressing the Need
Understanding building science basics should be part of each worker's specific job responsibilities, otherwise your business is at risk. The Department of Energy's Building America and Zero Energy Ready Home programs are tackling the problem with a multi-tiered approach: a student competition, science education guidelines, and an online information center.
Among these initiatives, I'd like to focus on the grand winner of this year's contest: the 2015 Race to Zero Student Design Competition. From April 18 to 20, 33 teams from 27 universities convened at the National Renewable Energy Laboratory (NREL), in Golden, Colo., to present their design submissions for the competition. More than 300 students from the U.S. and Canada competed to design, analyze, and document their versions of a zero energy–ready home. The students were led by faculty members committed to integrating building science and design curricula into their university programs.
The year's top prize went to the Opti-MN Impact House, a high-performance design submitted by a University of Minnesota team that consisted of students enrolled in four programs: residential building science, construction management, design, and marketing.
Designed to fit on the majority of North Minneapolis infill lots, the Opti-MN Impact House is a collaboration between the University of Minnesota and Urban Homeworks, a Minneapolis nonprofit. The overarching goal was a flexible, high-performance, energy-efficient, and affordable house that can easily be built by Urban Homeworks and purchased by eligible North Minneapolis low-income residents through the Green Homes North program. For technical details about the project, see the sidebar on page 30.
The 2015 Race to Zero was the second year of the competition, and it was met with as much (if not more) zeal and interest than in its inaugural year. So, DOE expects Race to Zero to continue being a force for integrating building science in university curriculum. The third annual competition will be hosted at NREL again in April 2016. If you're interested in following or participating in the competition, please visit the program website or contact us. You can also view the list of winners and their submissions here.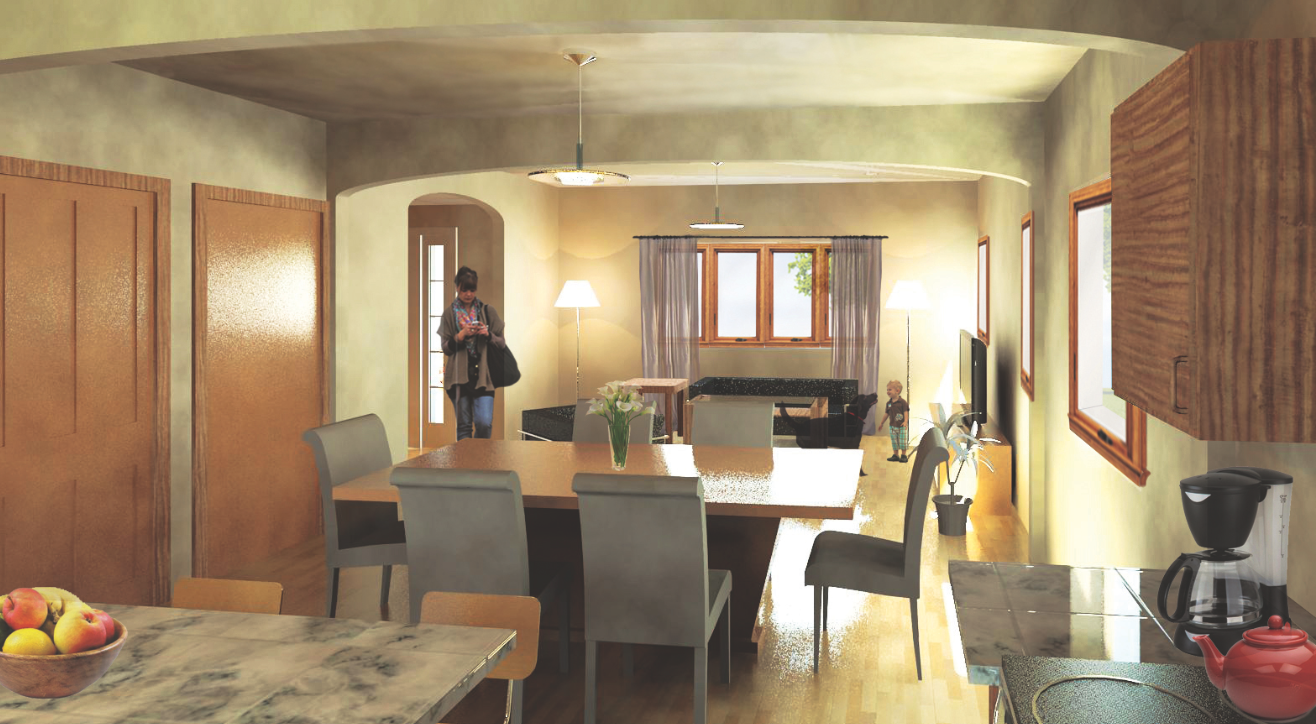 A Cost-effective, Zero Energy–Ready Home Design
OPti-MN Impact House
Location: Minneapolis
2009 IECC Climate Zone: 6
Size: 2,544 sf
Stories: 2
Bedrooms: 3
Bathrooms: 1.5
HERS Score: 32 without PV; 0 with PV
Estimated monthly energy costs:
$93 without PV; $10 with PV
Design Strategy and Key Points
Enclosure: Durable and robust building systems using a hybrid 2x4 wall with exterior insulation; cathedralized truss roof with exterior insulation; high-performance windows; and exterior foundation insulation.
HVAC: High-performance integrated space and water heating system with inverter heat pump for cooling/dehumidification, energy recovery ventilator, and high-efficiency filter—all delivered through a compact, small duct distribution system.
IAQ: Design strategy heavily focused on pollution avoidance, source-point exhaust, continuous ventilation, and consistent distribution of fresh/filtered air to all habitable rooms.
Technical Specifications
Basement slab insulation: R-10
Foundation insulation: R-15
Wall insulation: R-15
Roof insulation: R-50
Windows: 0.27 U-value; 0.20 SHGC
Heating/cooling/DHW specifications: 95 percent CAE; 14 SEER
Energy recovery ventilation: 60 to 110 cfm with 70 percent SRE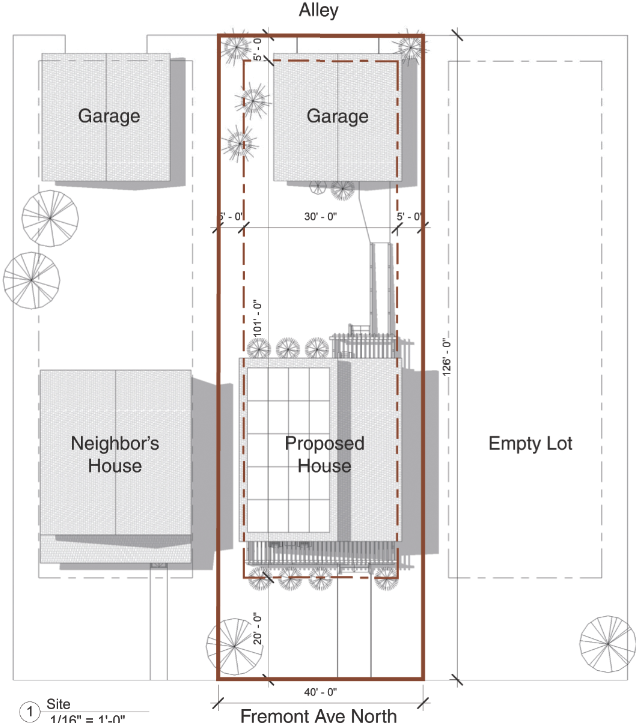 The home's front elevation faces east, while its longer side faces south for optimal solar gain. A two-story design also helps take full advantage of natural light.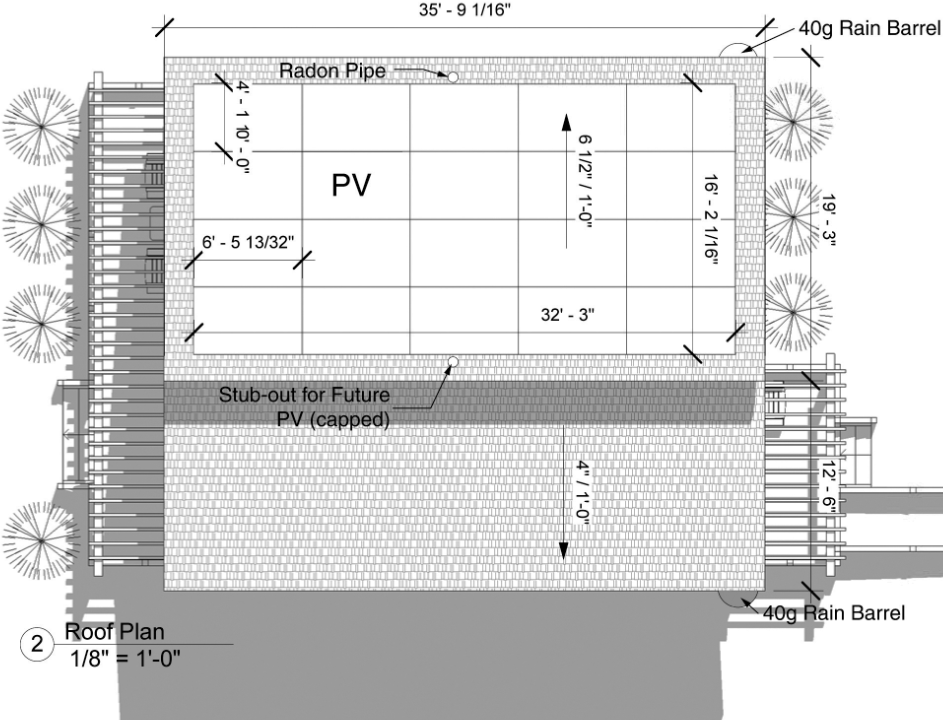 The roof has a 6.5/12 slope modified shed truss to the south to maximize the PV system. The north portion has a 4/12 slope half-truss that accommodates the clerestory windows.