Courtyards, porches, and loggias increase the livability of a home's interior as well as its exterior
June 1, 2015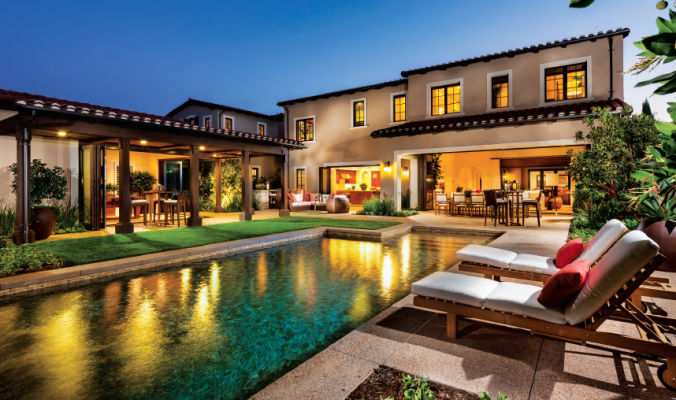 Along with providing additional living area, carefully designed outdoor spaces enhance the adjacent indoor square footage, too. Strategically placed courtyards bring natural light into rooms located near the central portion of a home, while expansive porches and loggias open out onto pools and other backyard entertainment features. Although outdoor spaces are valuable to single-family designs, they're also essential to common areas of multifamily projects, such as the clubhouse. The following ideas from our House Review team offer unique ways to blur the lines between indoor and outdoor living. 
Trevi Plan 3, Orchard Hills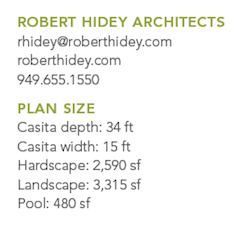 This is the quintessential indoor-outdoor house, with plentiful open-air and covered outdoor space, as well as a generous pool and deck area flowing seamlessly from the open-plan interior rooms through expansive accordion glass doors. The consistent use of one paving material both defines the outdoor spaces and brings them together as a whole. Outdoor spaces follow the same design principles as indoor rooms: Each is properly scaled and furnished to fulfill a specific purpose and in a fashion that's consistent with the style and materials of the house. Surrounded on three sides by the living and dining spaces and gallery, and viewed from the private bedrooms and bonus family room above, the interior courtyard offers intimate seating for four. The covered loggia, an extension of the great room, serves as a dining room for a dozen guests. Paved areas adjacent to the loggia and kitchen provide comfortable seating for relaxation and outdoor dining.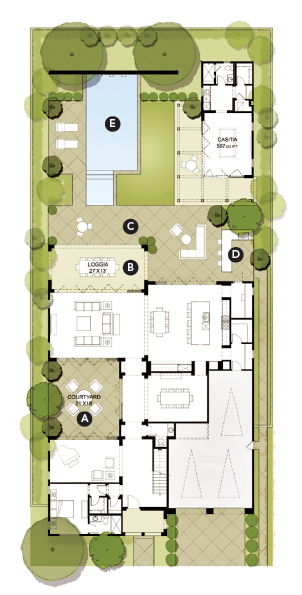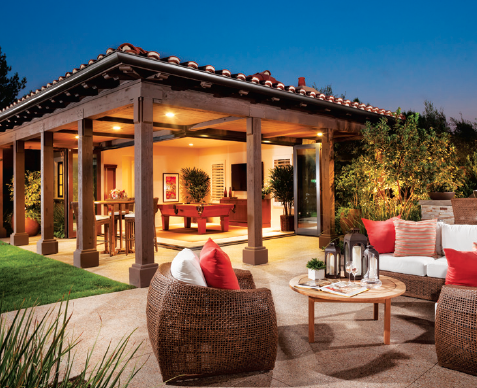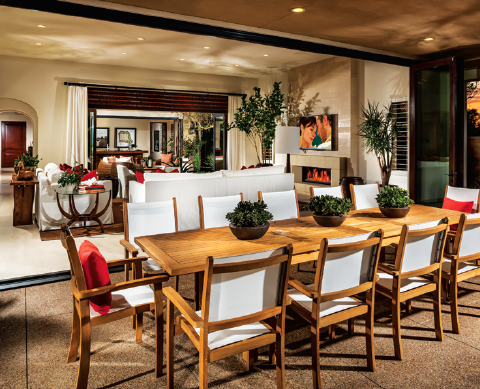 Bishops Landing
We partnered with Beazer Homes in coastal Delaware to create a residents' clubhouse with inviting outdoor living areas. Multiple spaces provide residents with views, seating, tables, fireplaces, and areas for large and small groups. The main courtyard is an appealing place both day and night, with seating and a fireplace to keep warm during the evening while stargazing. The flanking covered porches are designed for seating and eating, and all outdoor areas are oriented for views of the water feature. An optimal outdoor living experience is one that features multiple spaces that are linked together so that residents can spend time outside in all kinds of weather.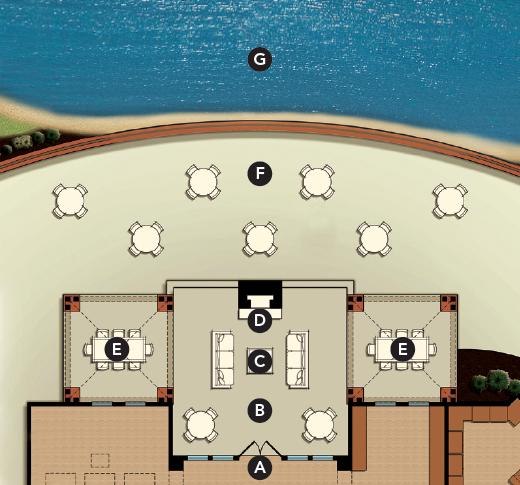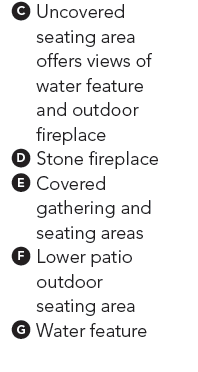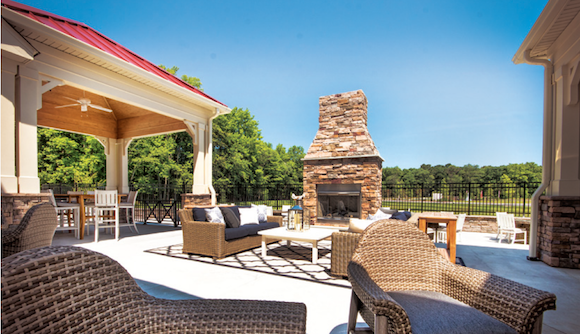 The Oasis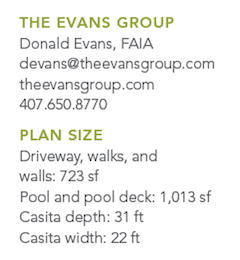 When you name a show home The Oasis, a spectacular exterior environment had better be part of the plan. Here, outdoor living spaces blur the lines between interior and exterior, thanks to pocketing, multi-panel sliding glass doors that open out onto the outdoor room. A front door leads into the courtyard, providing a gradual entry progression into the house. The home wraps completely around the private courtyard. Outdoor living here is designed to be as functional and beautiful by day as it is by night, with a separate cabana that houses a full outdoor kitchen and a dining area. Fire and water elements are seen in the form of the firepit dining table and the strip of fire above the sun deck's waterfall return. Local regulations limited the amount of impervious surface possible, so a gravel and stone driveway was installed. Stormwater rules make retention provisions a must as well, but we didn't want to dedicate precious square footage to a retention pond. Instead, the pond is concealed under the decking, which isn't considered an impervious surface.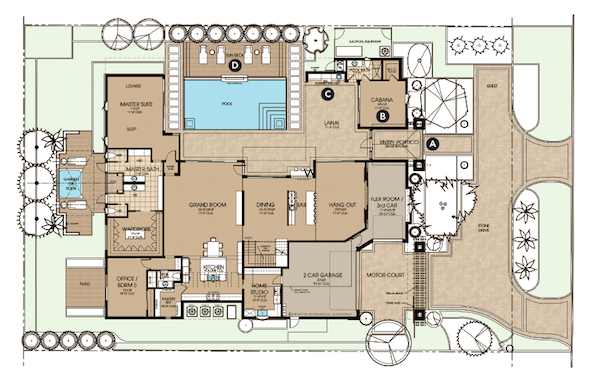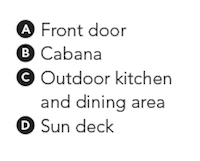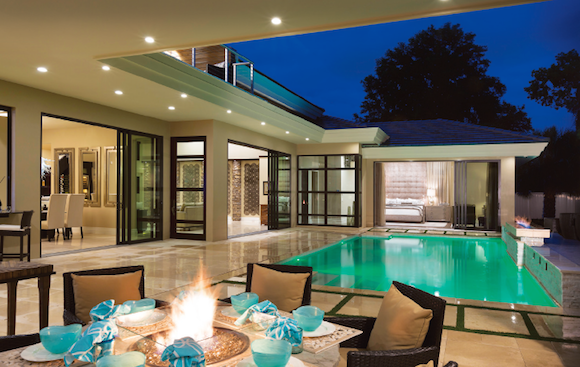 Paige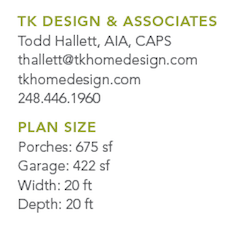 The best outdoor spaces blend architecture with nature, blurring the line between indoors and out. This home was designed for a narrow urban infill site, with an interior courtyard that helps bring much-needed light into the narrow, deep home. It also provides a private outdoor room for family activities and entertaining.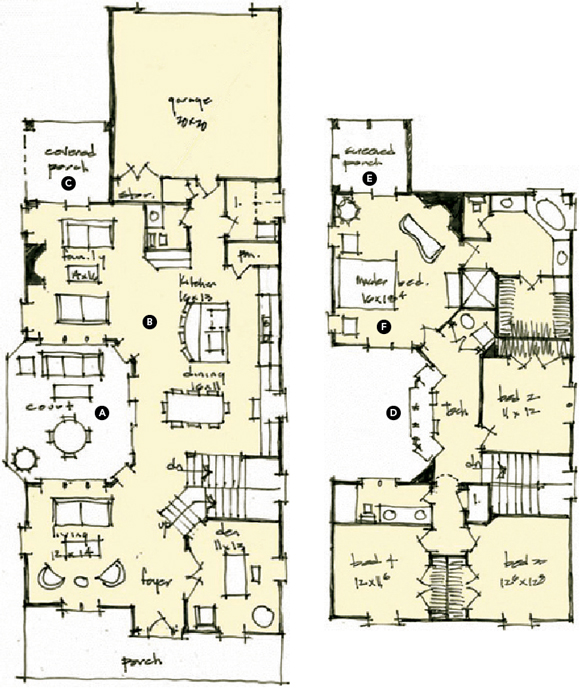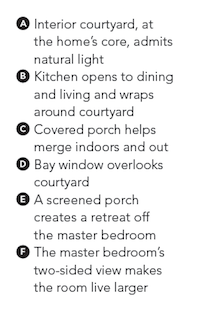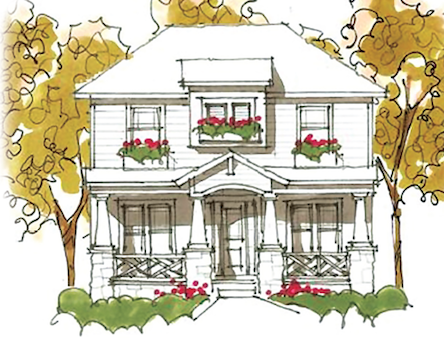 Millennial Home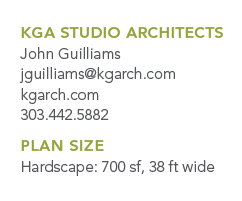 Well-planned outdoor space adds perceived additional square footage to a small floor plan. This one, targeted to a Millennial buyer, provides two 8-foot-wide sliding glass doors that extend sight lines to an inviting and functional outdoor room. The upper-level extension at the rear of the home provides shelter for an outdoor kitchen and eating area. The fireplace is set in a spot that allows it to be seen from the living space, eliminating the need for an indoor fireplace. The overhead door at the rear of the garage provides access and opportunity for more sheltered space off of the outdoor room (or a place to tuck away the tiki bar).