Walkable streets and friendly facades are balanced with great water views
By Susan Bady, Senior Contributing Editor | September 9, 2015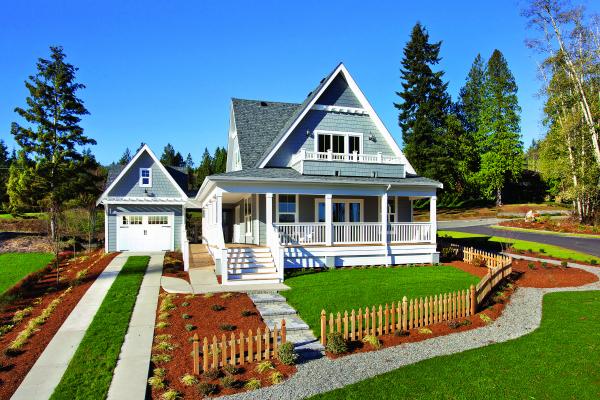 Ludlow Cove is a new neighborhood of 42 cottages at the Resort of Port Ludlow, located on the eastern side of the Olympic Peninsula in Washington state. The neighborhood offers a selection of woodland, park-front, and waterfront homes. Each boasts such custom details as Craftsman accents, Shaker cabinets, stainless steel appliances, designer paints, and high-end fixtures and finishes. Inviting front porches, charming back patios, and picturesque views inspire outdoor living that is uniquely Northwestern. 
The primary design challenge was to balance walkable streets, where every home has great water views, with the need for the homes to present their best frontage toward the street and thereby contribute to a vibrant, social neighborhood. In addition, the architect wished to evoke an intimate, one- to two-story cottage scale using relatively expansive first floors. By carefully working through these competing objectives, the result is a neighborhood that feels unusually attuned to the site, as if each home were custom designed. 
The homes incorporate a great deal of flexibility and are geared to appeal to full-time and vacation lifestyles alike, for residents at all stages of life. Master suites are located on the first floor to accommodate different ranges of mobility. Plans also offer detached garages, one- and two-car garages, and carports.
Gold
Single-Family Production, 2,000 SF or Below
Ludlow Cove Cottages—Townsend
Port Ludlow, Wash.
Entrant: Westharbor Homes (builder)
Architect: Union Studio Architecture & Community Design
Interior Designer: 2 Plus Design
Developer: Port Ludlow Associates
Land Planner: Geyer Coburn Hutchins
Photographer: Resort Hotel Photographer/True Perspectives Northwest
Size: 1,866 sf
Sales Price: $489,000
Completion: October 2014
No. of Units: 42
Density: 2.8 units/acre