The couple's plans to renovate an old house took a left turn after they contemplated how they really wanted to live.
By Susan Bady, Senior Contributing Editor | August 4, 2015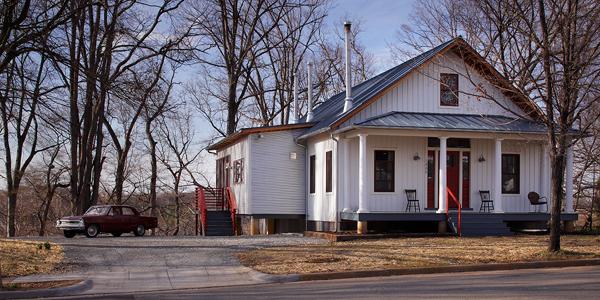 When Christopher Hildebrand and his wife, Sara Moriarty, built their new home in Richmond, Va., it made perfect sense to incorporate their business into the process. Hildebrand is co-founder of Tektonics Design Group, a Richmond, Va., industrial design and manufacturing company. Moriarty is Hildebrand's partner at Tektonics and is also active at its subsidiary Fern & Roby, which makes furniture and audio wares.
The couple's plans to renovate an old house took a left turn after they contemplated how they really wanted to live. They created a 2,500-square-foot home that reflects their design sensibilities and their love of found objects and salvaged materials. It's open, airy, and comfortable; functions well for parties and family stays; and is a model of energy efficiency and sustainability.
[Scroll to the end of the story to view slideshow]
DESIGN INNOVATION [DI]: Please explain the structure of your various businesses.
CHRISTOPHER HILDEBRAND: Tektonics was formed in 2003 by myself and Hinmaton Hisler. In the beginning, we specialized in contract design and fabrication related to architectural projects — anything from custom cabinets and public monuments and sculpture to handrail systems. Our ornamental metals and woodworking projects required a Class A contracting license. As a Class A: Build contractor, certified by the state of Virginia, we are licensed to do general contracting without limits. That's not what we specialize in now, although we still take on large and often uniquely challenging jobs that interface with the architectural profession. Right now we're producing 40 reproduction capitals for the rotunda at the University of Virginia. They'll be as close as possible to what Thomas Jefferson got from his craftsman.
As Tektonics grew, [Hisler] and I developed side projects that turned into separate companies. Eventually those projects were re-absorbed into Tektonics as wholly owned subsidiaries. In addition to Fern & Roby, there is Stijl Cycles and Loco-Machine, which are focused on bicycle-related products. Everything is designed, developed and manufactured by Tektonics in a 20,000-square-foot facility.
Our business has evolved into its current industrial design and manufacturing model over the past six years, and in the past three we've been building in-house product brands to, in essence, become our own client.
[DI]: Is this the first home you've built together?
SARA MORIARTY: We renovated the home we used to live in, which is about a mile away and in one of the oldest parts of Richmond, called Church Hill. It was a little 19th century frame house, and was our practice house in terms of figuring out how to work together and how we wanted to live in the space. It was quite narrow and a bit like living on a sailboat.
But designing a house [from scratch] is totally different. Christopher was really good at mapping out how we were going to potentially use the house, so he thought about things I would never think about, such as where to put the outside hose bib.
[DI]: The two of you designed the house with the help of a licensed architect and general contractor, correct?
[HILDEBRAND]: Yes, we designed the house with some guidance from our former architectural partner, Damon Pearson, who is now with 3North in Richmond. I drew the house in CAD and together we reworked the details until we had the space we wanted. We hired Michael Binns as the general contractor; he had previously done work for some of our clients. I managed the project with Michael and was on site almost every day.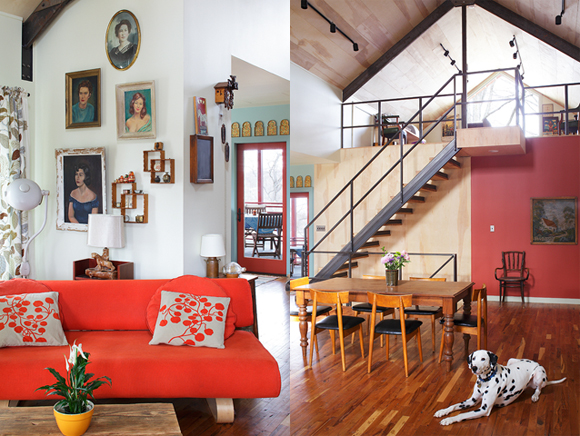 "We have eclectic taste. The house is a blend of salvaged, thrift-store and hand-me-down furniture, found objects and folk art," Hildebrand says about the home's decor. Photos: Shawn Stanley/Fern & Roby
[DI]: There was an existing house on the property that you originally intended to remodel. What made you decide to tear it down and build new instead?
[HILDEBRAND]: We bought 1.3 acres in the city, most of which was, and still is, a wooded hillside. There was an early 20th-century cottage on the property that had not been lived in for at least 30 years — it was very much a Boo Radley kind of house. Our first inclination was to build a very modern home on the hillside, away from the street and the rest of the neighborhood. But we realized that something extremely modern wasn't going to be true to our aesthetic, much less integrate with the neighborhood, which is predominately 1920s-1940s Cape Cods and bungalows.
We actually loved the cottage and shifted our focus to renovating it. But there were just too many complications and limitations, and we had to accept that it would be more cost effective and give us greater flexibility to tear down the old house and start from the ground up.
[DI]: How did the slope of the property impact the orientation and design of the new house?
[MORIARTY]: The back of the plateau abruptly drops off into a very steep hillside. We avoided huge site problems by keeping the setback in line with the rest of the houses on the street (the same location as the existing house). We had partially excavated for a basement when we were thinking about remodeling, so we just expanded on that and created a walkout lower level.
[DI]: What were your design goals for the house?
[HILDEBRAND]: We wanted it to be open and comfortable while still feeling cozy. Sara wanted an upstairs, so we have a loft space. We also wanted it to enjoy great views of the property and function well for parties and family gatherings.
The main floor and loft, including the screen porch in the back which we treat as an interior room, is about 1,500 square feet. The master bedroom is directly under the loft, which we use as an office. On the main level, the kitchen, dining, library, and living room all flow together. There's only one hallway, which is about 10 feet long and accesses a guest room and hall bath.
The basement is finished and around 1,000 square feet, with two bedrooms, a bathroom and a central living room. The back room is currently my workshop, but eventually we'll turn it in a second living room.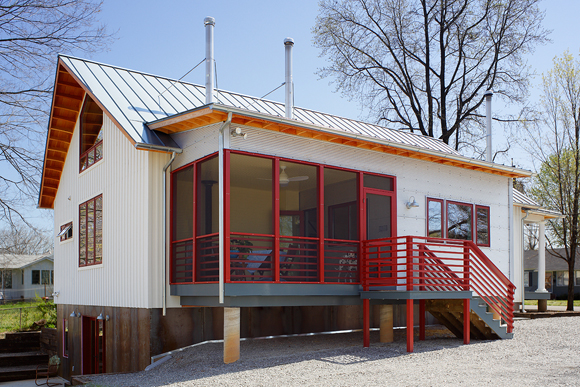 The screen porch in the rear of the home serves as an additional living room for three seasons out of the year. Photo: Shawn Stanley/Fern & Roby
[DI]: How would you describe the exterior architecture versus the interior design?
[HILDEBRAND]: The exterior communicates a traditional Virginia cottage/farmhouse vernacular. It has columns, a front porch and a standing-seam metal roof. The board-and-batten cladding also has a traditional quality.
The interior embraces much more modern design qualities. There is a cathedral ceiling clad in birch plywood and supported by steel trusses. The loft, which we use as an office, has a colorful floor made of institutional-grade square tiles. The stair railing is made of hot-rolled steel, and the stair treads are made from reclaimed heart pine from an old factory in Georgia.
[MORIARTY]: An exact copy of that stair goes down to the basement.
[DI]: How much material in the house is salvaged?
[HILDEBRAND]: The interior doors, the sinks, the downstairs bathtub, the front-door surround, and the porch columns are salvaged. The columns came from the original cottage. The wood stoves were either salvaged or purchased used on Craigslist.
We're currently installing a custom bookshelf system in the living room made of oak boards that I milled from a tree that came down in a friend's yard during a hurricane. We designed the system and it was fabricated at Tektonics.
[DI]: Is the flooring in the loft made of linoleum?
[MORIARTY]: We did consider linoleum, but ended up going with Flextile, a low-VOC product that architects often specify for institutional projects. It's laid out in a checkerboard pattern and adds a pop of color to the space.
[DI]: How would you describe the interior décor?
[HILDEBRAND]: We have eclectic taste. The house is a blend of salvaged, thrift-store and hand-me-down furniture, found objects and folk art. We made some of the furniture in the house, and we collect the artwork of family members and friends. We're not interested in a house that is modern in the kind of rote way some houses look now, where everyone seems to have the same Eames rocker and Knoll couch.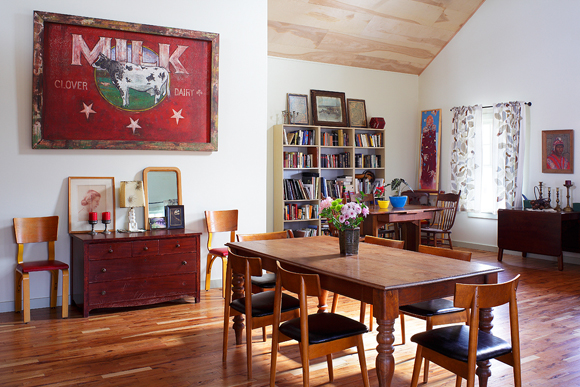 Some furniture was designed by Christopher and Sara; other pieces were made for them. The home is filled with folk art, found objects, salvaged pieces and artwork made by family members and friends, giving the home an eclectic look. Photo: Shawn Stanley/Fern & Roby
[DI]: How did you source the salvaged products and materials?
[HILDEBRAND]: Richmond has some great stores and businesses that carry salvaged fixtures and other items from buildings that were demolished. We bought two enamel cast-iron sinks, and a friend gave us an old janitor's sink and a clawfoot tub that we installed in the basement bath.
[MORIARTY]: For the master bathroom, we did sort of an IKEA hack for the cabinets. The vanity is actually a kitchen vanity with green glass doors. We custom-made the concrete countertop in our shop.
[HILDEBRAND]: In the kitchen we have a salvaged steel sink; butcher-block countertops that I fabricated; and a fantastic six-burner stove, which was one of our few splurges. Sara and I worked in restaurants for years and we both love to cook.
[MORIARTY]: Speaking of restaurants, the faucets throughout the house are utilitarian, institutional faucets made by a company called T&S. They'll never break, they're very easy to clean, and they fit with the aesthetic of the salvaged sinks.
Specifying products that are normally used in institutional settings is much more economical. And the penny tile in the shower, which is made by a company in San Francisco called American Universal Corp., is also very economical. We built a curb and put tile on either side of it for a shower pan, then Chris made stainless steel saddles to go on top of them — 1/4-inch stainless steel plates that were laser-cut at Tektonics.
One of the compromises we made was to not tile the floor in the bathrooms, which allowed us to spend a little more on the tile we used in the showers. The flooring is the same throughout the home: a cabin-grade cherry.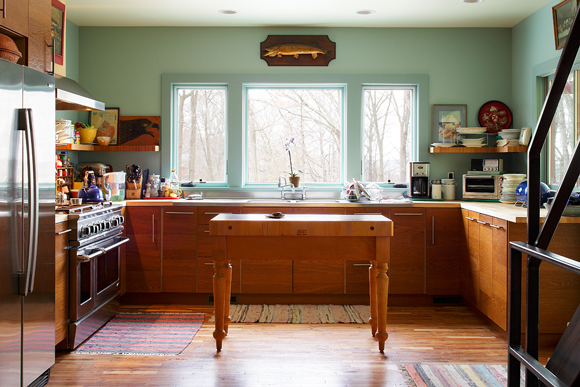 Christopher made the butcher-block countertops in the kitchen. The steel sink was salvaged. The couple worked in restaurants for years and both love to cook, so they splurged on the six-burner stove. Photo: Shawn Stanley/Fern & Roby
[HILDEBRAND]: We did that also because we felt like bringing wood into the bathroom, which is less common nowadays but was typical in traditional homes.
[DI]: What else did you contribute to the project in terms of materials and expertise?
[HILDEBRAND]: I've been a metalworker since I was 16 and really wanted to feature some monumental metal and woodwork in the major design elements of the house. Tektonics was able to produce several structural and ornamental features I designed, including the steel stair; the trusses supporting the cathedral ceiling; the birch ply ceiling panels; and the fir rafter tails in the roof. I cut the rafter tails and ceiling panels on the router at Tektonics, using software to create a cut pattern that would have a high yield.
[DI]: What aspects of the project are sustainable?
[HILDEBRAND]: We used a Structural Insulated Panel System (SIPS), which creates a great thermal envelope that is amazingly energy efficient. In the winter, we can heat the entire upstairs with just the wood stove. Insulation is everything — our power bill is less than one-third of what our 19th-century frame house in Church Hill cost, and the new house is three times the size of that place. We have a tankless water heater, and all of the appliances are energy efficient.
[DI]: Now that you've lived in the home for a while, what are your thoughts about the project?
[HILDEBRAND]: We like to say that we rebuilt the idea of the house that was there. People who were familiar with the old house have complimented us on the job we did renovating it, which makes us feel good. Since the setback is in line with the rest of the houses on the street, we're also physically engaged with the neighborhood instead of being distanced from it on the hillside.  We have comfortably hosted 15 family members and five dogs for Thanksgiving, and have had parties with as many as 70 people.