Energy innovation meets modern warmth for a show home packed with inspiring and useful takeaways for builders everywhere
By Amy Albert, Editor-in-Chief; Photographs by Jeff Davis | January 15, 2016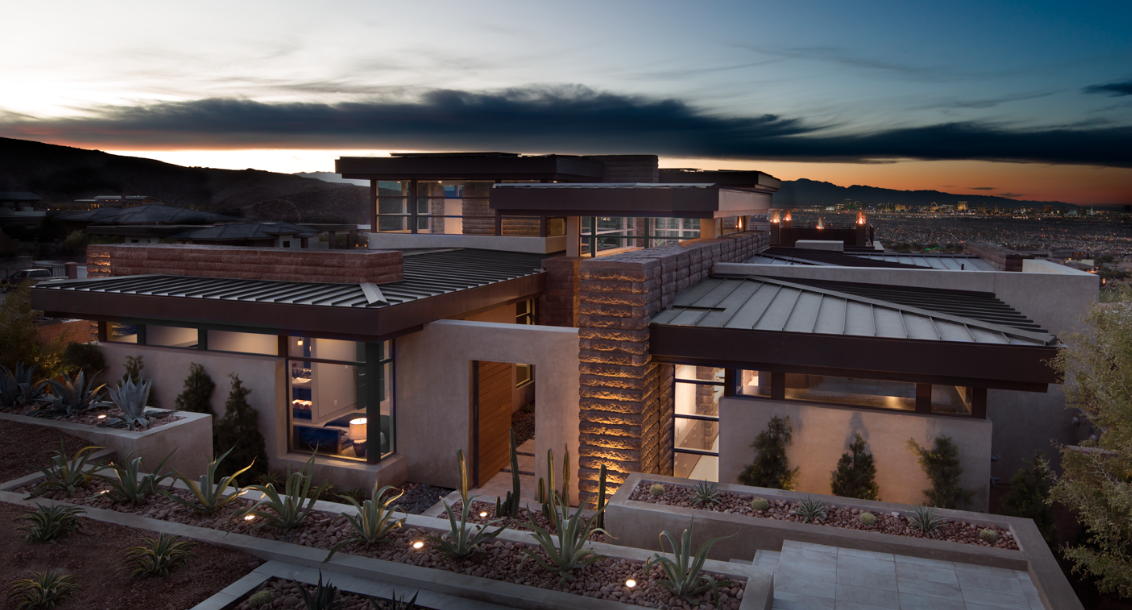 The New American Home, Henderson, Nev.
Designer/Builder/Interior Designer: Element Design | Build, Henderson
Landscape Design: Sage Design Studios, Las Vegas
Lot size: .28 acres
Living area: 5,280 sf
Bedrooms: 4
Baths: 4.5 
Deadlines are a challenge with any build, but The New American Home is an extreme case in point. Fluidity is the rule, not the exception, with product adjustments that can happen right up to the last moment. "Things change throughout," says Josh Anderson, owner of Element Design | Build, the firm that designed and built this 33rd edition of The New American Home. "Anytime you're trying new products and pushing to the forefront, there are always challenges," he adds. But with The New American Home, "every change has a domino effect on other systems." 
As with other iterations of The New American Home, this one's reason for being is as a cutting-edge showcase for residential building products, trends, and technologies. A show house it may be, but the home was designed with a clear buyer profile—make that several buyer profiles—in mind. Though the house possesses a sophisticated ambience befitting its Las Vegas-area locale, Element Design | Build's project manager, architectural designer Josh Moser, points out that such features as Jack-and-Jill baths and a walkout basement are family- and kid-friendly. 
In an age of diverse buyer profiles and multigenerational living, family-friendly canmean many things, from a home that suits an empty-nester couple who host frequent visitors to a group of friends who have pooled their savings and gone in on a house together. On the pages that follow is a home as versatile and beautiful as it is innovative and sustainable.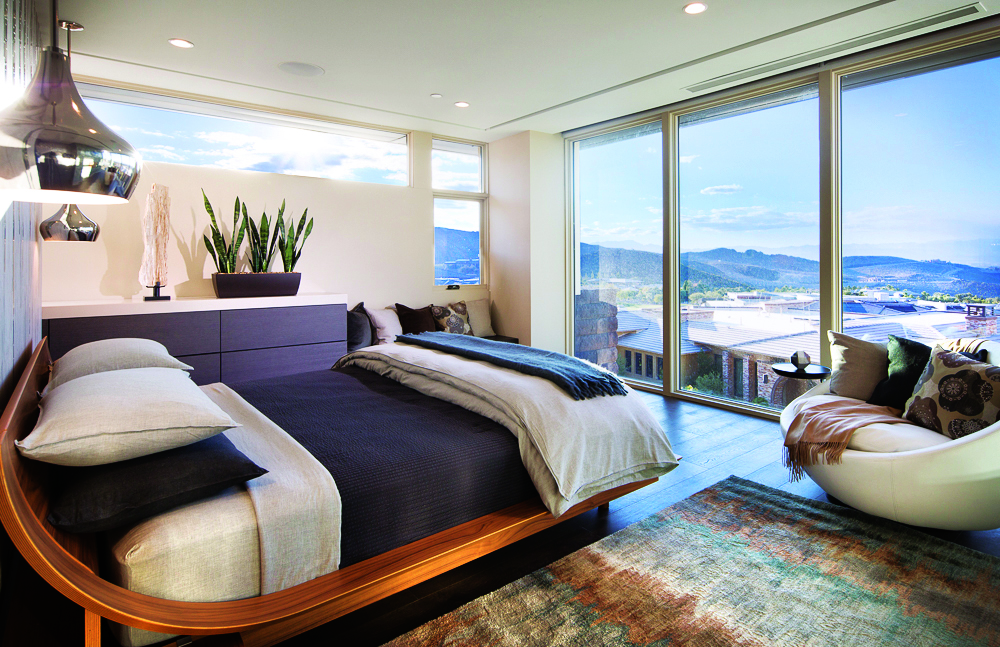 The New American home targets many buyer profiles, with suites on both the main and upper floors. The upper level VIP suite boasts great views; both suites have a spa-style bath, a kitchenette with a sink, fridge, and coffee machine. When working on a project, says interior designer Elma Gardner of the Elements team, "I try to put myself in the home. I have a family, but I am also an empty nester and a soon-to-be grandmother." 
ENERGY MISER + DREAM HOUSE
While every builder knows that a home's design must respond to its surroundings, The New American Home's desert location posed special challenges in responding to that call. The lot offers eye-popping views to the south and west, including views of the Las Vegas strip. Though the project team wanted to take advantage of those vistas and encourage as much natural ventilation as possible, this approach proved tough to achieve. "In the original design, we had a lot more operable windows and doors," Anderson says. "But once the sun hits your windows, you've created a major heat component. To get our numbers to work, we had to get rid of some of them." 
Element Design | Build was onboard for a super-efficient home but unwilling to compromise design to do so. The original concept's generously sized windows facing south and west had to go. The entire project team was challenged to come up with a design that could maintain Element's vision, with energy smarts. This necessitated a slight change in direction.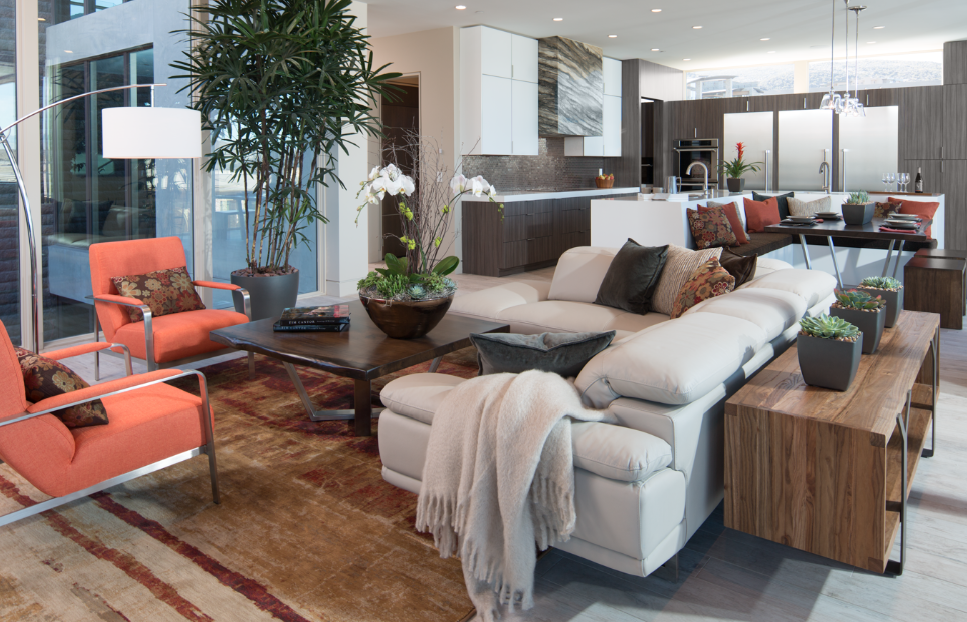 On the main level, the living area is adjacent to the kitchen in an open-plan layout that enables sightlines throughout the space. Visible from both rooms are the courtyard and western-facing vistas of the mountains and the Las Vegas strip.

As a result, most of the home's windows face northeast, with outdoor spaces, such as the one off the kitchen, taking advantage of the views. Those windows that do face south and west have generous overhangs. The windows themselves feature glass developed  by Sierra Pacific Windows in time for construction of The New American Home. "Usually, when you put the windows in, the house gets hotter, but this home got cooler," Anderson says. "I was shocked."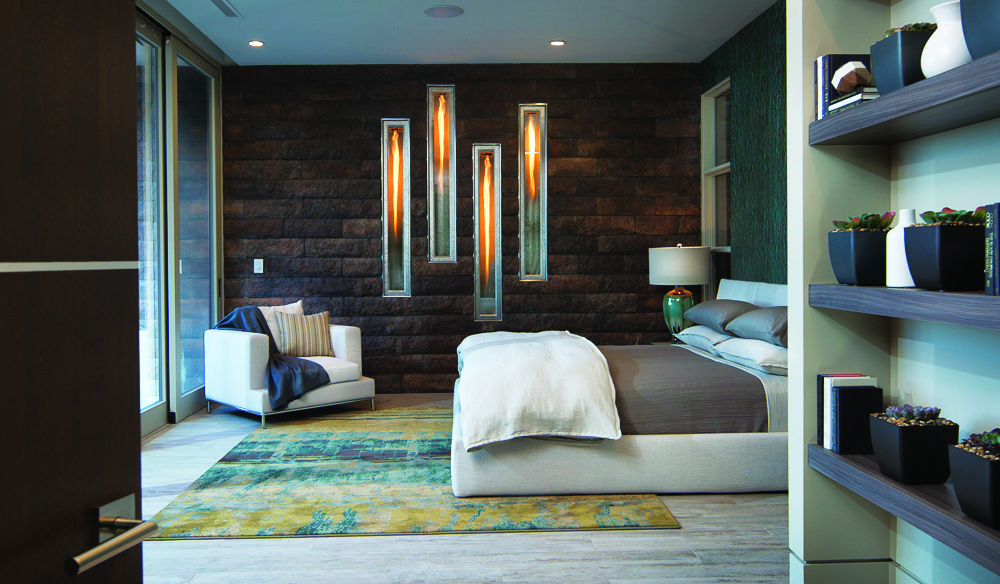 A vertical fire element picks up on the orange hues of the Desert Red Rock wall and gives a cozy, human scale to the master suite on the main level, while cloth-covered furnishings and area rugs soften its harder surfaces. This room boasts views clear through the house but balances that openness with a sense of enclosure. Courtyard windows that face in provide privacy while maximizing the amount of natural light.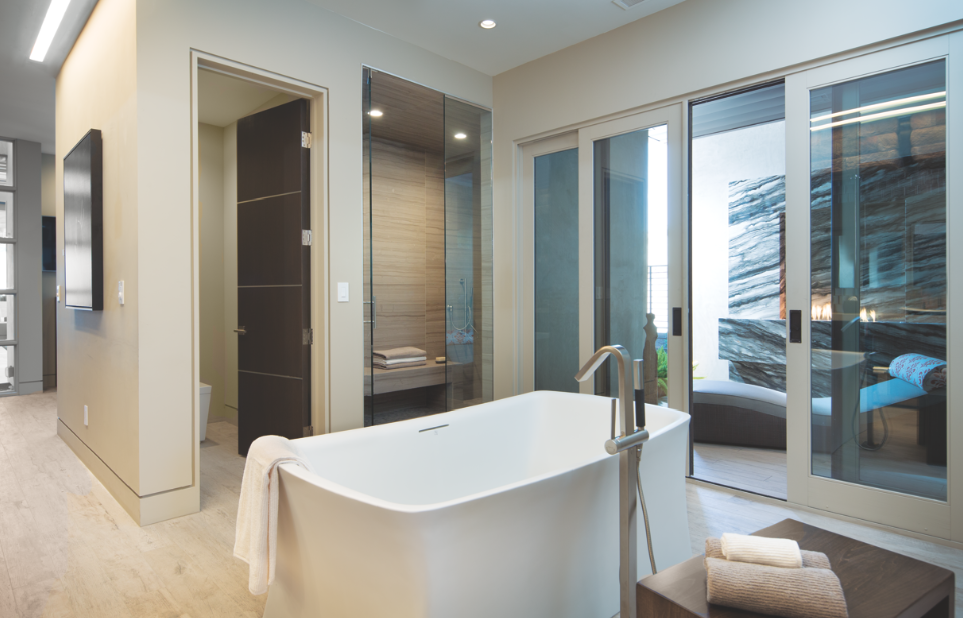 The home has hidden spaces, such as this private patio with a chaise lounge and fireplace tucked away outside the master bath, that aren't immediately obvious and "don't give it all away up front," says the Element Design | Build team. Bath fittings by Kohler include a DTV+ steam shower.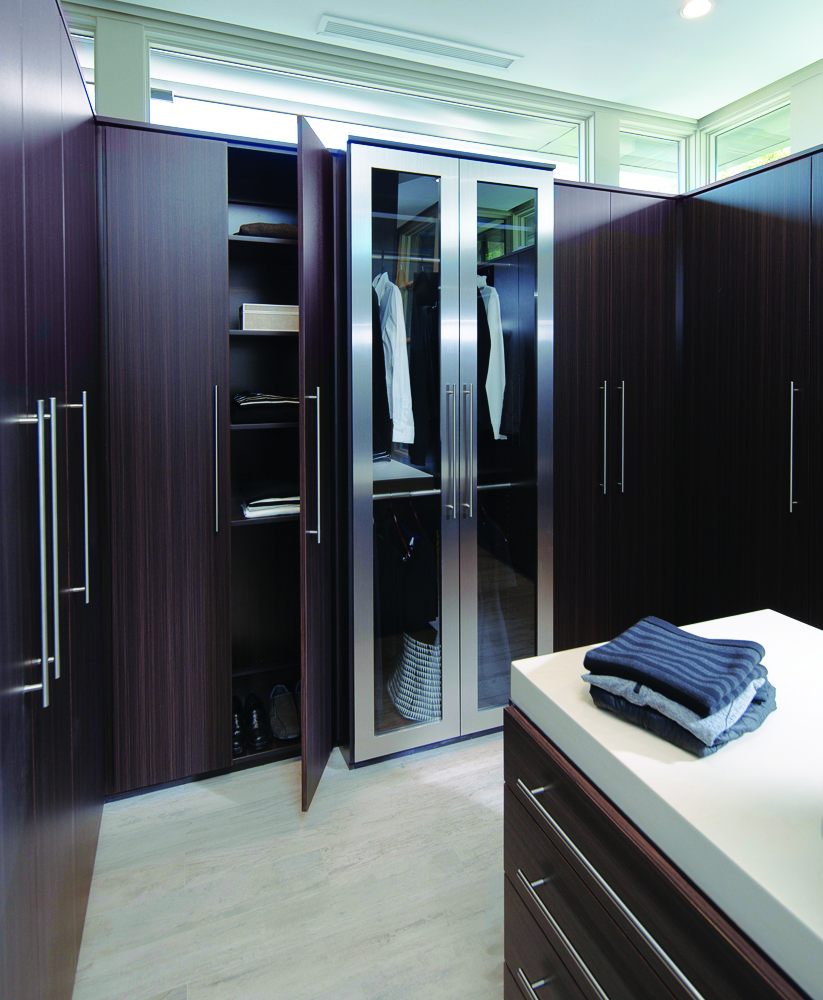 The master suite dressing room offers abundant storage.
The new direction also involved using a standard of indoor comfort rarely if ever seen in residential construction. The home has been designed on the basic principles of heat, moisture, and relative humidity control. In designing for maximum comfort, human metabolic rates for sitting, sleeping, and being active—while wearing either long sleeves or short sleeves—were closely examined. "For us, designing on the basis of comfort was a big philosophical change," says Achilles Karagiozis, global director of building science at Owens Corning, supplier of the wall assembly. "But gigajoules don't make people happy." Comfort, sustainability, and lasting construction do, however, not to mention the lower utility bills.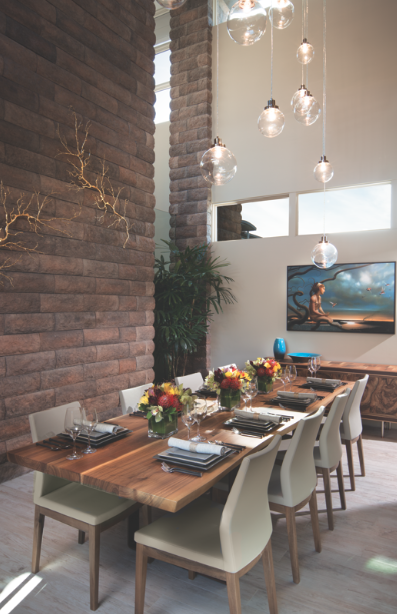 A double-height dining room gets added drama from custom pendant globes by Progress Lighting. 
Because of energy recovery ventilators and a MERV-13 system, the home breathes mechanically, achieving air quality that's "pretty close to what it is for an operating room," says Drew Smith, president of Two Trails Green Consulting, the home's third-party certifier.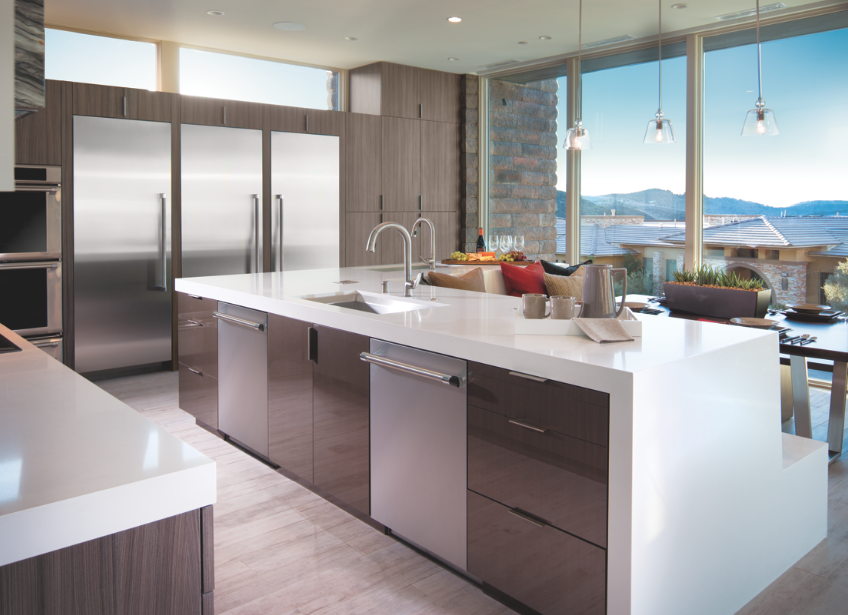 An entertainer's delight, the kitchen opens to the living areas. Zodiaq countertops add ample prep area, and appliances, all by Thermador, include steam and convections ovens and a convection warming drawer. 
An Indoor AirPlus certification is expected. Other certifications expected to acknowledge The New American Home's aggressive sustainability initiative include the National Green Building Standard's Emerald Level; from the DOE, Energy Star, Challenge Home US, and Build America; Southern Nevada Green Building Partnership; and the Water Smart Home Program (SNWA/SNHBA).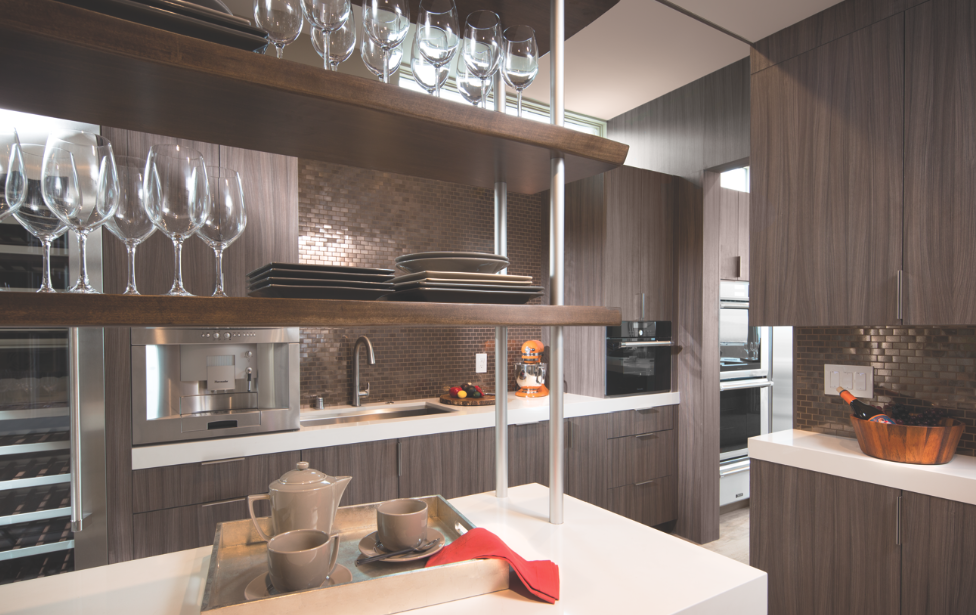 A prep kitchen and storage pantry are set to the side of the main kitchen. 

CUTTING-EDGE TECHNOLOGY
The New American Home is a smart one, embracing the latest in home automation. Door locks, smoke alarms, burglar alarm, HVAC controls, lighting, audio, video, the irrigation system, interior and exterior shades, swimming pool controls, the garage door and motor court gate, and the courtyard door station where guests can be buzzed in are all integrated via Savant Systems and can be controlled whether the owner is on the premises or on vacation. Anderson, a fan of all that home automation can bring to a house, is especially keen on systems that are simple enough not to rely on an integrator, where consumers can make changes themselves to create exactly the experiences they want in their own homes. The New American Home delivers all that, too, and its automation brings energy savings into the equation.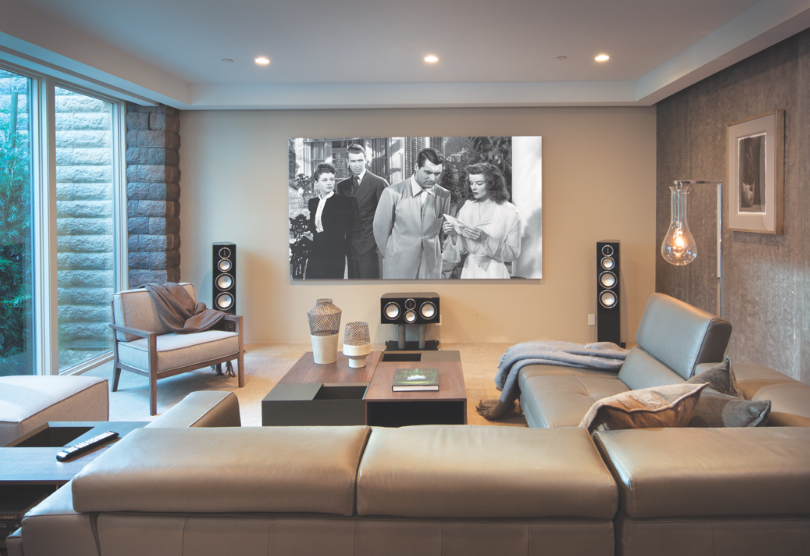 The media room  uses smart home technology for audio-video and shades, as well as a Dupont Corian wireless Charging Surface.
A SLOPED SITE OFFERS UPSIDES
The steep lot and 20-foot drop initially presented challenges, but Element used it to best advantage. By lowering the main level, the team was able to add another story, bypassing area height restrictions and offering a master/guest suite, kitchenette, and an outdoor entertaining area that all boast hypnotic views of the Las Vegas skyline. The garage was moved below and to the home's rear, creating space for two garages on a lot that would normally accommodate one. In doing so, appealing outdoor spaces were created on the lower level. A walkout ground floor with unobstructed views helps maximize the indoor-outdoor relationship, and having some walls in the earth further improves the home's impressive HERS numbers. Developing on a hillside is costly, acknowledges Anderson, who says that the only way it makes sense is if you can capture the beauty of the views. "We analyzed every room of the home as we planned the layout," he says. "What are you seeing? Where are your lines of sight? What's across the street? All of that played into our lot selection." 

WATER-WISE YET LUSH
In the desert, "you have to be very careful with the amount of water that landscapes require throughout the life of the home, which is decades," says Jonathan Spears, owner of Sage Design Studios and landscape architect for The New American Home. Here, landscape design serves many functions. Water features, sunlight, the play of shadow and wind through foliage, all bring a sense of texture, movement, and color to a static structure—not to mention the benefits of plants as natural air filters.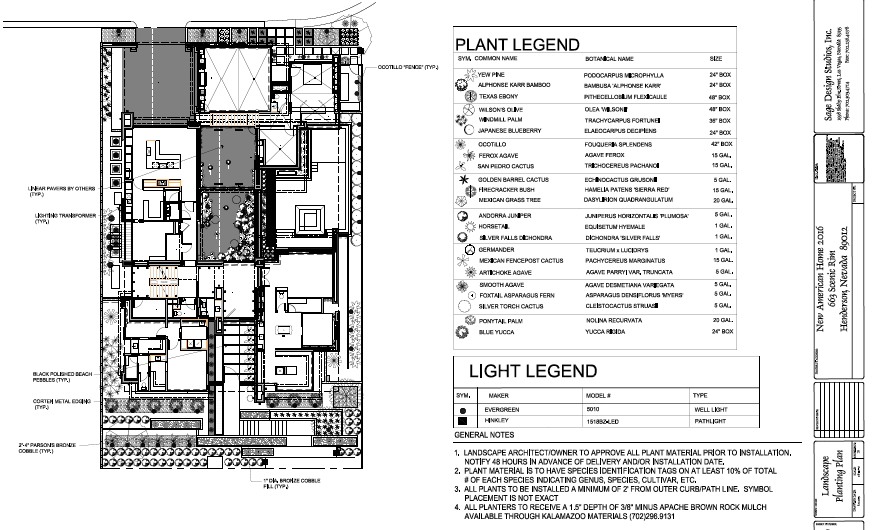 The New American Home landscaping program made use of a wide array of desert plants.

Spears explains his design strategy as "exploiting plants that are water-thrifty." The front of the home, which is more exposed to blazing sun and drying winds, called for typical desert plants in stylized groupings. A weather-sensitive irrigation system throughout adjusts water usage relative to the immediate climate. The courtyard, passively cooled because it's sheltered from sun and wind, was the place to use thirstier plants. 
But prickly cacti aren't the only way to achieve water-smart landscaping that's appealing and textured. Spears used plants such as Japanese Blueberry and Smooth Agave to add color and lushness. "No matter where you are in the house, the outdoors is right there," says Spears of The New American Home's landscaping program. "It transports you to a vacation and takes you out of your head."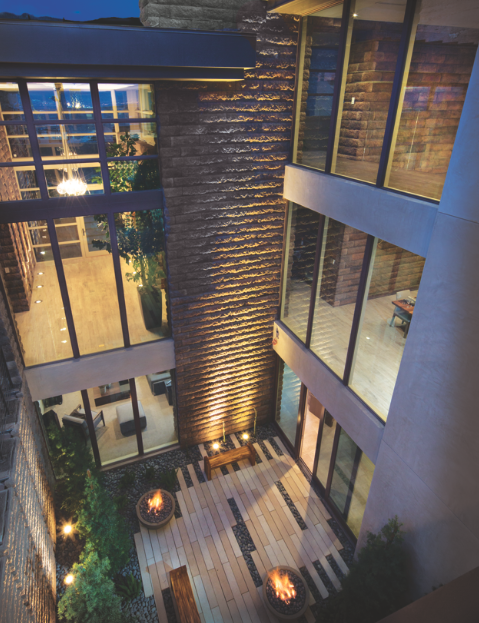 Floor-to-ceiling windows from Sierra Pacific offer courtyard views to each level.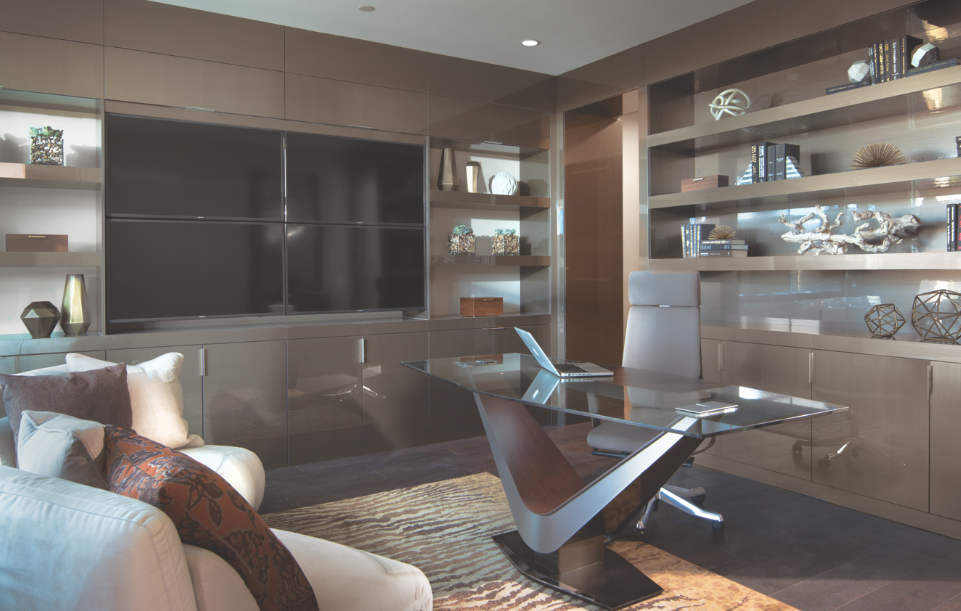 On the ground floor, the office has its own entrance and bath, making the space easily convertible to a multigen suite.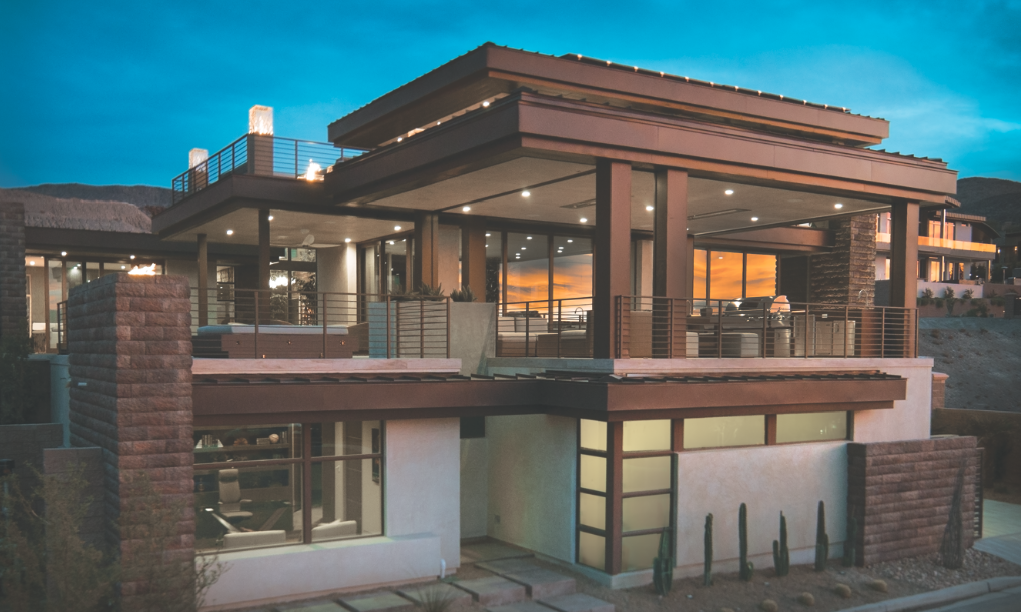 The rear elevation shows a steeply sloped site. Taking advantage of the 20-foot drop, the design team bypassed height restrictions, allowing for three stories. Sierra Pacific's high-performance windows and large overhangs contribute to the home's exceeding net zero. 
LESS THAN ZERO
The New American Home's energy consumption exceeds Net Zero, giving back to the grid, says Drew Smith, president of Two Trails Green Consulting, the home's third-party certifier. Final numbers were still being confirmed at press time, but below are energy facts and a diagram from Owens Corning of the wall assembly components, which use readily available products. 
•    HERS: A score of about -17 is the target for the home.
•    Solar: The PV roof array is comprised of 61 panels amounting to 19.215 kW. (Without PV panels, the home's HERS score would be 47.)
•    R-ratings: wall, 31; roof, 58.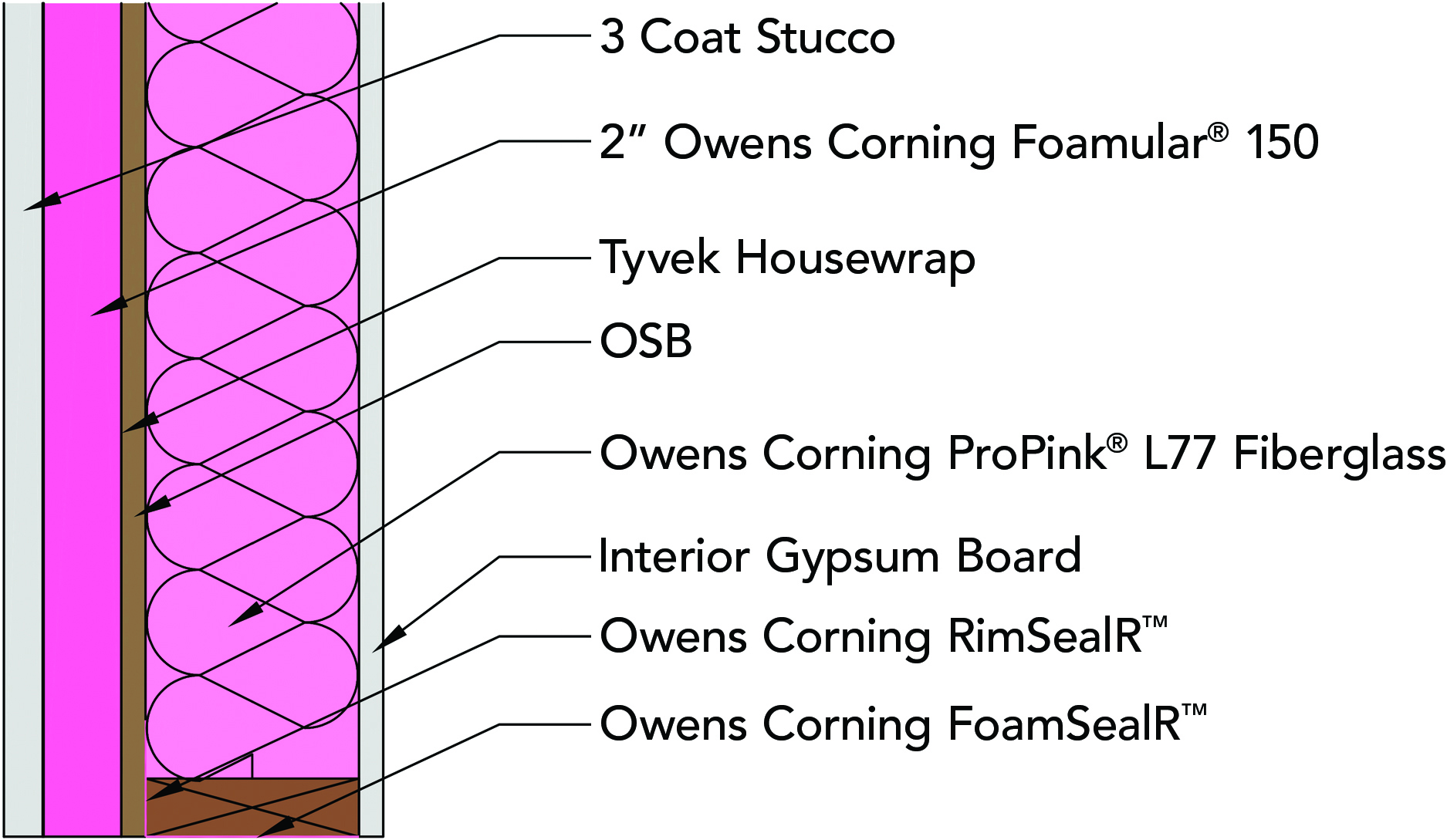 Wall assembly cross-section.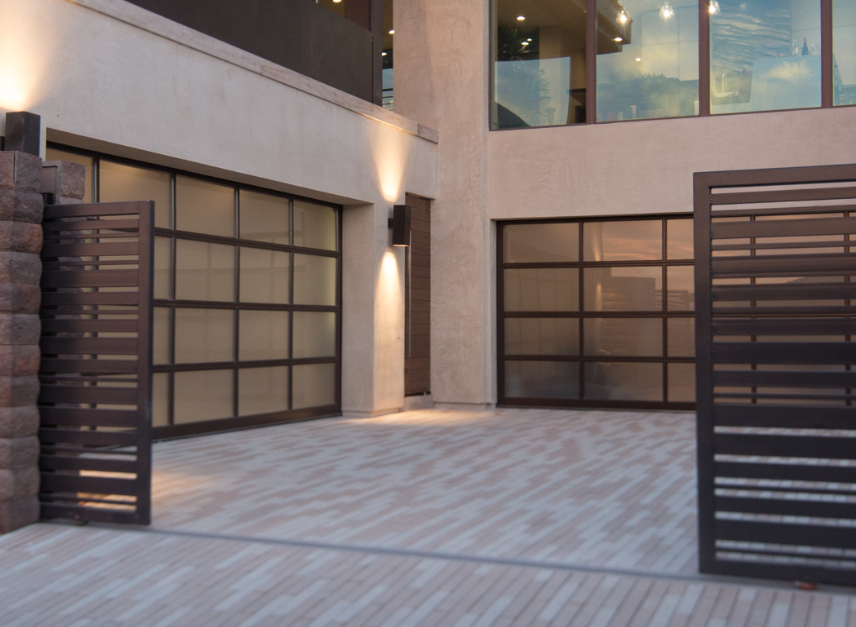 The  two garages are entered through a sliding gate from LiftMaster, an ample motor court, and doors by Clopay.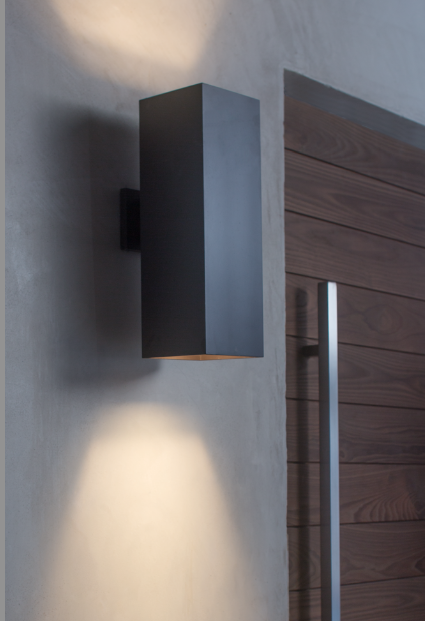 All lighting in The New American Home is LED, including outdoor fixtures by Hubbell.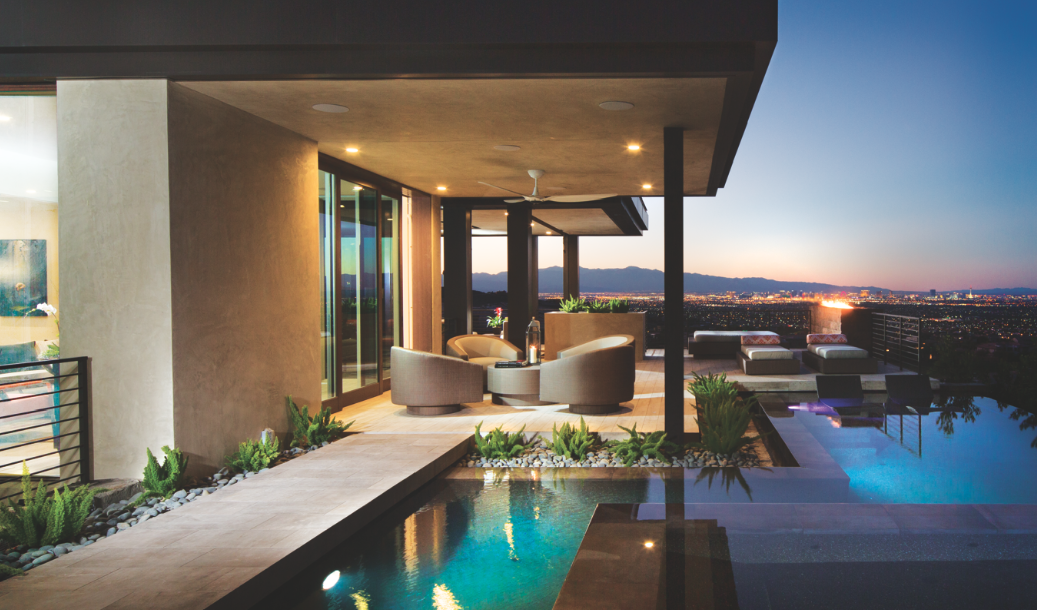 Western vistas make savoring the sunset and great views an everyday occurrence.

THE NEW AMERICAN HOME 2016 SPONSORS AND PARTICIPANTS
For more on featured products from The New American Home, check out this slideshow.
PLATINUM SPONSORS
LSC    BSH Appliances – Thermador appliances 
LSC    DuPont Corian/Zodiaq – countertops, charging stations
LSC    DuPont Tyvek – housewrap
LSC    Owens Corning – Foamular, building envelope 
LSC    Sierra Pacific – windows and sliding doors 
GOLD SPONSORS
LSC    Eaton – electrical receptacles 
LSC    Environmental StoneWorks – stone veneers
LSC    Kohler – plumbing fixtures, generator 
LSC    Panasonic – ventilation fans
SILVER SPONSORS
Environmental Water Systems – water filtratioN
MiTek – structural hangers
LSC    OmegaFlex – gas piping
LSC    Sherwin-Williams – Cashmere interior paint
LSC    Trane – heat pumps
BRONZE SPONSORS
*    Clopay – garage doors
LSC    Daltile – tile and flooring
LSC    Garaventa Lift – elevator
LSC    LiftMaster – garage openers and security gate 
LSC    Phantom Screens – window screens
LSC    Progress Lighting – lighting fixtures
LSC    Whirlpool/Maytag/KitchenAid – washer/dryer/countertop appliances
PARTICIPATING COMPANIES
LSC     84 Lumber (Logix) – ICF blocks
Abbott's Technology Design Group – automation installation
Absolute Closets and Cabinetry – closets
Alcal Specialty Contracting – garage door, insulation installation
Bandalux – interior shades
Bathtub for Pets/Forever Stainless Steel – pet amenities
LSC    Big Ass Solutions – patio fans
Blynco Window Fashions – installation, interior shades
Bosch – stackable washer and dryer 
*    Bosch Thermo Technology – tankless water heaters 
Carpets N More – cabinet installation 
Civil Werx – staking and grading
Coulisse – interior shades
Custom Specialties Group – fire features and installation
Dekton (Cosentino) – outdoor kitchen 
Econ Appliances – installation
Electrolux-Beam – central vacuum system
Emtek – interior door hardware
Grace – roof underlayment
Hankin Specialty Elevators – installation
LSC    Hearth, Patio & Barbecue Association – association members
*    Hearth Products Controls (HPC) – fire features
LSC    Honeywell – structural wiring
*    Hubbell Lighting – lighting fixtures
Infratech – outdoor heaters
LSC    InSinkErator – food disposers, water dispensers
JD Stairs – interior stairs
LSC    Kingspan Insulation – protection board
*     Kohler Power Systems – generator
Lubrizol – fire suppression system
LSC    Mohawk Industries – wood floors, carpet
National Nail – nails, screws, caulking, sealants
*    Pacific Energy Fireplace Products – fire features
Pakedge – wireless
PentAir – pool and water feature equipment
*    RH Peterson/Fire Magic – fire features, outdoor kitchen equipment
Republic Services – trash dumpster and recycling reports
Rodenhouse – wall systems installation
Satco Products – light bulbs 
Savant Systems – smart home technology
Step Stone Pavers – central courtyard pavers
The Art of Tim Cantor – original art
Tiberti Fence – jobsite fencing
Two Trails – energy consultant and verifier 
LSC    USG – gypsum/drywall/underlayment
UltraCraft Cabinets – cabinetry
Unique Wholesale Distributors – interior shades
LSC    Uponor – plumbing runs
Vahallan Papers – wall coverings
Window Fashion Vision magazine – interior shades
Interior furnishings provided by: Attitude Furnishings, Broyhill, Drexel Heritage, Henredon, Hickory Chair, Huppe, La Barge, Lane Furniture, Lane Venture, Maitland Smith, Pearson, Soho Concepts, Somers Furniture, Thomasville, Ultimate Builder Services
LSC = Leading Suppliers Council member
* = Contributor through LSC member
PROJECT TEAM
Builder/Architect/Interior Designer Element Design | Build, Henderson, Nev.
Landscape Architect Sage Design Studios, Las Vegas
Green Building Consultants Home Innovation Research Labs, Upper Marlboro, Md.; Two Trails Green Consulting, Sarasota, Fla.
Producer National Association of Home Builders, Washington, D.C.; NAHB Leading Suppliers Council, Washington, D.C.
Media Partner Professional Builder and Custom Builder magazines, Arlington Heights, Ill.
THE NEW AMERICAN HOME 2016 TEAM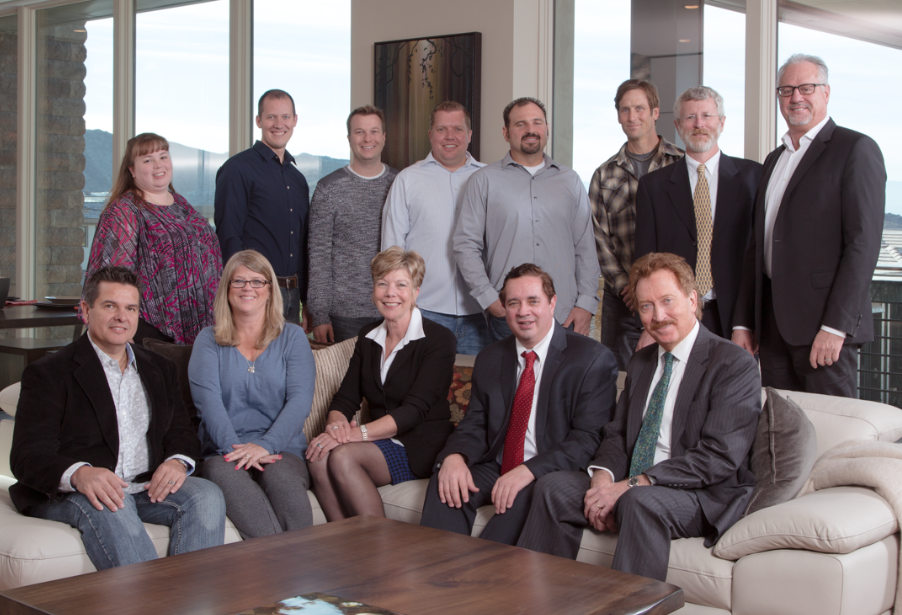 Clockwise from top left: Meghan Corrigan, Director of Administration, Element Design | Build; Josh Moser, project manager, Element Design | Build; Josh Anderson, owner, Element Design | Build; Jed Tippetts, Director of Operations, Element Design | Build; Jonathan Spears, Landscape Architect, Sage Design Studios; Bill Owens, Task Force Vice Chair, The New American Home; Tony Mancini, Group Director/Principal, Professional Builder Magazine, SGC Horizon; Tucker Bernard, Director, The New American Home; Ted Mahoney, Task Force Chair, The New American Home; Elma Gardner, Interior Designer, Element Design | Build; Judy Brociek, Director of Events, SGC Horizon; Drew Smith, President, Two Trails Green Consulting

Want to learn more about The New American Home? Visit the website. PB