A thoughtful infill home transcends site constraints and offers great city views
By Susan Bady, Senior Contributing Editor | September 10, 2015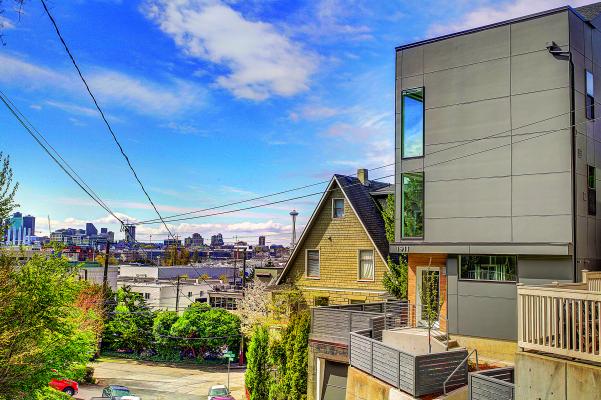 Located in the lively Seattle neighborhood of Eastlake, this single-family home was designed on an infill lot zoned for multifamily. An existing house and a 50 year-old detached garage on the site dictated the home's 18-by-31-foot envelope.
 
Constrained by Interstate 5 to the west, steep topography, and a foundation 12 inches from the existing bunkered garage, the home took extra thought in design and execution. A pipe pile foundation was used to minimize load on the garage, which has a large deck on the top. Triple-pane windows reduce interstate noise. A rooftop deck—with a built-in sink, cabinets, a barbecue grill, and electrical outlets—encourages outdoor living. 
 
The home, which meets Built Green 4-star standards, was sold in three days to a young family.
 
Bronze
Urban Infill
Outlook, Seattle
Entrant: Build Urban (builder, architect, interior designer)
Photographer: HD Estates
Size: 1,730 sf
Hard Cost (excluding land): $170/sf
Sales Price: $829,000
Completion: April 20014