New construction appeals to "recently liberated" empty nesters
February 5, 2016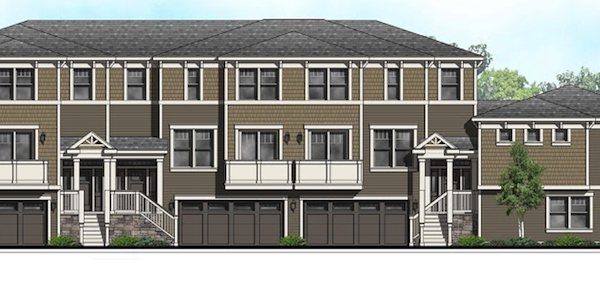 Taylor Junction's prime location across the street from a train line to Chicago is expected to draw both young professionals and empty nesters. Buyers can personalize the townhomes with numerous floor-plan and design options. Rendering: courtesy BSB Design  
Deerfield, Ill., an upscale suburb on Chicago's North Shore, had not seen new residential construction for 15 years—until December 2015, when The Jacobs Companies broke ground on nine townhomes at Taylor Junction. At press time, two homes were sold.
Keith Jacobs, president and CEO of the Deerfield-based builder/developer, and architect Joe Safin of BSB Design, in Palatine, Ill., gave DI the scoop on this new community.
DI: First of all, tell me about The Jacobs Companies.
KEITH JACOBS: We were founded in 1935, so last year marked our 80th anniversary. To date, we've built more than 6,000 custom and semicustom homes and 44 developments in more than 12 Chicago suburbs. In addition to Taylor Junction, we're currently developing three communities in Highland Park, two in Northbrook, and one in Vernon Hills.
DI: What appealed to you about the Taylor Junction site? What kind of homes are being built there, and what's the target market?
JACOBS: Taylor Junction is located across the street from a commuter train line into Chicago and is within walking distance of shops and restaurants in Deerfield. The site is adjacent to another townhome development. Initially we felt that our community would appeal to what I like to call "recently liberated empty nesters" who are moving down from larger homes in Deerfield and want to stay in the area, but travel a lot. We also have product for young professionals with children.
Exterior maintenance is taken care of at Taylor Junction. That's something all buyers can appreciate.
The homes range from 2,200 to 2,585 square feet, with two- to three-car garages and numerous layout and design options. They're priced from $549,000 to $669,000.
JOE SAFIN: Obviously it's a perfect location for commuters, which would include dual-income couples with kids, or a situation where one spouse commutes and the other works at home.
For older buyers, Unit A is a two-story, raised-ranch plan that has a main-floor master suite. The other two plans have three stories and are more family oriented. Unit B is a master-down plan with the potential for four bedrooms and four baths, plus a lower-level rec room. Unit C has all the bedrooms upstairs and lower-level space that can either be a rec room or a guest suite with a walk-in closet.
DI: see by looking at the floor plans that you're catering to a broad range of not only demographic groups, but also style preferences.
JACOBS: We encourage buyers to personalize the home to their liking. For instance, the main-floor plan of Unit C can be designed with a contemporary, open-concept layout that offers casual dining at the kitchen island plus a dining room, or a more compartmentalized plan where the dining room has some visual separation from the kitchen and is used as both a family eating area and an entertaining space.
DI: What was the inspiration for the exterior elevations? Were you influenced by the architecture of existing homes in the neighborhood?
SAFIN: Due to height limitations, the buildings have lower-pitched hip roofs. Craftsman style is popular in the Chicago area, and we drew on that by using a mix of stone, accent shingles, brackets, and heavy trim on the exterior. Inside, there are taller ceilings on the main floor to expand the perception of space.
DI: What's your unique selling proposition for Taylor Junction?
JACOBS: We designed something for the community that has not been available for 15 years. The homes all have attached two-car garages; actually, some have three-car garages, whereas the townhome project next door has only one-car garages.
SAFIN: The nice thing about little boutique projects like this one is that it becomes its own little neighborhood. It's not like a 150-unit townhome project where you get lost just driving through. I can imagine the residents become great friends and neighbors and enjoying activities together.
DI: Keith, what is your company's strategy going forward?
JACOBS: We look for unique pieces of property in infill locations that take a real talent to develop. We'll do any size project—whatever lends itself to the size of the property, whether it's nine units or 75 units.
There are no other family-owned businesses on the North Shore that have been around as long as we have, so we have a distinct advantage. The big nationals that are looking to build a few hundred units have to go further out from the city.