Proving that you can open new markets in the land of million-dollar mansions
March 24, 2015
No one in the Hamptons wants to live in a condo, Manhattan developers said. But Steven Dubb proved them wrong and created a market on Long Island for luxury condos with the success of Bishops Pond Southampton Village. Now Dubb and his father, Michael, the founder of Beechwood, are building for another underserved market with the Portofino, a community of 200 high-end rental apartments.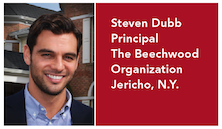 Q: What did you see in the market that motivated you to build luxury condos in what is predominantly the realm of single-family mansions?
A: Young people who live or summer in the Hamptons have been there for years, but they're getting older. They love being there but don't want to deal with a big house anymore. You've got landscaping, snow removal, a propane tank. That's a theme we've seen from million-dollar houses down to $300,000 houses across Long Island. People want to be in a certain area but don't want to deal with the single-family home anymore. We had this idea that if we did townhomes and villas in a very nice way, we would be able to get that discerning buyer to come over to us at Bishops Pond. It turned out we were right. Condos had been done in the Hamptons before, but not for 20 years. They were smaller and darker and the style was 1980s contemporary and not very appealing. When we brought the standards up to today—high ceilings, wood floors, marble bathrooms, high-end appliances—that turned out to be appealing to them.
Q: What are the challenges you foresee working on luxury rentals? 
A: It will be a challenge in that it hasn't been done before in Long Island in terms of the quality we will build to. Our brand is with age-restricted communities where we sell the lifestyle more than we sell the home. That means that when we build and manage the community, although we will use a third-party property management company, we are really driving the boat there. We take a lot of control over that to make sure that the homeowners' experience is what we promised them. In terms of managing properties, we have a lot of the experience that we need, and it will be relatively easy to transfer over to the Portofino. I expect there will be challenges I cannot see now. We're going to have to learn as we go, and that's exciting.
Q: What advice do you have for the son or daughter of a builder regarding how the boss's kid can earn respect from fellow employees?
A: When you come into the business, people automatically assume certain things about you and you have to just prove them wrong, and really the only way to do that is to just put your head down and work harder than everyone else. So, generally, I'm in the office a few hours later than the last person to leave and am one of the first people to come in in the morning, and it's been happening in this business for close to seven years now. I think I've proven that although I've been given a great opportunity, I'm willing to work for it and I want to earn it. So treat people as nicely as you can and work your ass off.
Q: What can you tell us about your latest project? 
A: At Huntington Station, N.Y., Avalon Communities has built 300 rental units and their approval included 76 for-sale units as part of the community. We won out on their RFP process. Avalon is top-end for that market, and they built a top-end clubhouse that we are going to get to share with our owners. Our homes will be a mix of townhouses and flats that will go from the high $300s to the low $500s. A lot of what gets approved in Long Island is age-restricted housing, but Huntington Station is not age restricted, and it's close to one of the best downtowns in Long Island. We've got some of the highest property taxes in the country, and it's hard for young Long Islanders to be able to afford to live here. So planners are talking about developing these cool downtowns that will attract and keep our youth in an affordable way. One example of that strategy is downtown Huntington Square. It will be entry-level housing in the upper $300s. That sounds crazy, but for Long Island that's entry-level housing. We're excited to be building some housing here for young people. PB