Isaac Zuercher talks about the drivers in Middle Tennessee
By Professional Builder Staff | February 9, 2015
Isaac Zuercher founded Zurich Homes in 2005 with his father, Stan, who jumped into home building after selling the electrical contracting business he owned and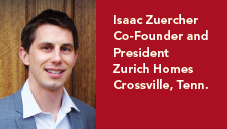 operated for 24 years. Isaac worked for his dad's business through high school and college and became a licensed general contractor after graduating with a business administration degree from Tennessee Tech University.
The company has since built more than 70 homes in Middle Tennessee and has developed a reputation for specializing in French country-style houses with highend amenities. With the influx of 55-plus buyers, Zurich became an active player in Fairfield Glade, a master planned retirement-style community near Crossville and recently expanded into the Nashville market where brother Micah leads construction operations.
Zurich's latest venture is being among four custom home builders invited by the developer to Allenwood, the newest subdivision in Thompson's Station. The 9-acre site will be the opposite of a master planned community, featuring an intimate neighborhood of 13 houses of around 3,000 to 4,000 square feet with prices starting in the high $400,000s.
Q: Tell us about the buyer group(s) that are active in your market. What is attracting them to Tennessee, and what are their preferences for design and amenities? 
A: Our core client is retirement age and is relocating to Tennessee, although recently we have noticed a trend of native Tennesseans deciding to retire within the state. Some of the factors that are drawing them are a moderate climate with four seasons, low taxes, and a location that is a single-day drive to many northern states and to Florida. The most prominent architectural styles that we see demand for are still very traditional but with interior layouts that are well-crafted and thought-out. In the Nashville market, our clients tend to be younger moveup buyers but are still often relocating to the state for the vibrant job market that exists in Nashville. 
Q: Have the 55-plus buyers who are relocating to Tennessee prompted Zurich Homes to change its product? 
A: We founded our company in 2005, and we have spent the last 10 years listening to our clients and adapting our product to meet their needs. We engage in a process of purpose- driven design with our customers that often results in building a home that is smaller in square footage but that pays greater attention to detail in finishes than they initially set out to build. One of the most common design trends that has emerged is including two master suites rather than having multiple bedrooms that are rarely used. We also have seen great demand for quality outdoor living spaces, such as large screened-in porches, fireplaces, etc. 
Q: How does Zurich Homes differentiate itself and its product? 
A: Many people immediately recognize our homes for their unique architectural style, but the foundation our company is built upon is our commitment to our customers. That includes listening to our customers and tailoring not just our product but the entire experience to meet their needs. Quality and timely delivery are a minimum standard in our competitive market, and we spend a great deal of time focusing on aesthetic and functional design and ensuring that the execution of that design meets our customers' expectations. 
Q: What can you tell us about your latest projects? 
A: Allenwood offers homeowners a quiet, distinctive alternative to the large master planned communities that dominate much of Williamson County. We are very excited about Allenwood, as it is an excellent example of the symbiotic relationship that can exist between a developer and a builder when they share a common vision for the architectural feel and standards of a neighborhood. PB