Nationally, all three components of the LMI rose over the quarter.
By NAHB | June 6, 2016
The U.S. housing market continues to recover from the Great Recession, buoyed by strengthening home prices and employment levels, according to an analysis that the NAHB has been conducting since late 2013. However, single-family permit activity remains a lagging element of the overall housing industry as the construction sector rebuilds its production infrastructure and builders grapple with rising regulatory costs.
The NAHB/First American Leading Markets Index (LMI) rose to 0.95 in the first quarter of 2016. This means that, based on current permit, price, and employment data, the country—on average—is running at 95 percent of normal economic and housing activity. An LMI value of 1.0 indicates a full return to normalcy.
For single-family permits and home prices, 2000–2003 is used as the last normal period; for employment, 2007 is the benchmark. To calculate the LMI, NAHB uses data from the Bureau of Labor Statistics, Freddie Mac, and the U.S. Census Bureau.
This LMI reading shows that markets in 119 of the approximately 340 metro areas nationwide returned to or exceeded their last normal levels of economic and housing activity in the first quarter of 2016—45 more markets than this time last year. Meanwhile, 86 percent of markets have improved year-over-year.
Nationally, all three components of the LMI—single-family housing permits, employment, and home prices—rose over the quarter. House prices continue to make the most widespread gains and are now at 40 percent above normal activity. Meanwhile, employment rose to 97 percent of normal activity, which is very close to a complete recovery.
However, single-family permits inched up to 49 percent of normalcy and remain the sluggish part of the index. The NAHB is forecasting additional growth for single-family construction this year and next, although this growth will be tempered by worker and lot availability constraints. Rising regulatory costs are also limiting the volume of production and are preventing many entry-level buyers from being able to purchase a new home.
Looking at specific areas, Baton Rouge, La., continues to top the list of major metros on the LMI, with a score of 1.54. Other major metros leading the list include Austin, Texas; Honolulu; Houston; San Jose, Calif.; Oklahoma City; Los Angeles; Nashville, Tenn.; Charleston, S.C.; and Salt Lake City.
Housing Market Snapshot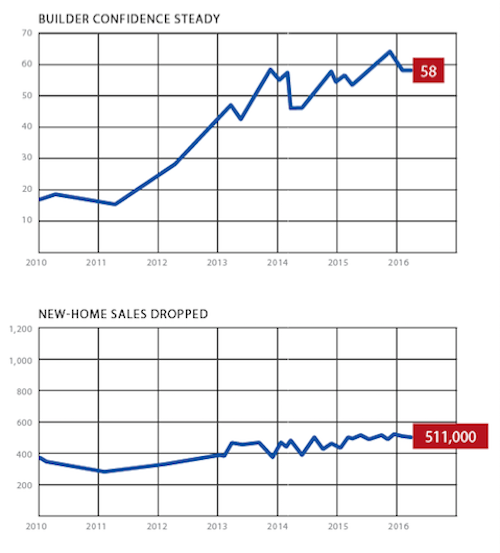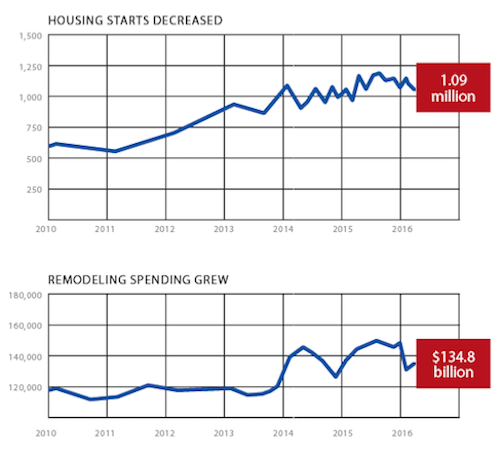 According to the NAHB/Wells Fargo Housing Index, builder confidence was unchanged in April at 58. March new-home sales fell 1.5 percent from February to an annual rate of 511,000, while housing starts also dropped 8.8 percent during the same period to an annual rate of 1.09 million. Remodeling spending in March grew 2.4 percent to $134.8 billion.