Marc Thee of Marc-Michaels Interior Design introduces his first designer tile collection in conjunction with Barbie Kennedy of Barbie Kennedy Designs
By Susan Bady, Senior Contributing Editor | January 29, 2015
Marc Thee, founding principal of Marc-Michaels Interior Design, in Winter Park, Fla., has introduced his first designer tile collection in conjunction with Barbie Kennedy of Barbie Kennedy Designs, in Palm City, Fla. The long-time friends and collaborators met with DI to discuss their creative process and the connection between menswear and tile.
Design Innovation: You launched two new tile lines last April at the Coverings show: the Essence Collection and the Heritage Collection. What inspired these designs?
Marc Thee: The big question for me was, "How does it make someone feel?" There's a tremendous anchoring sense, or sense of comfort, when you surround yourself with things that already exist in nature. We embraced the five elements—wood, fire, earth, metal, and water. That's why in both collections you'll see metals, woods, and stones that represent water and fire as it dances and reflects images. I utilized my palette of "new neutrals," which alludes to what you see in menswear: light, resort-style, Florida-inspired neutrals as well as very rich, very urban-style neutrals. The stone colors include limestone, palomino, and graphite.
DI: You reference the use of "attainable" tile, wood, metal, and other materials for these collections. What do you mean by attainable?
Thee: Rather than use some new, hot product, I surround myself with familiar things and restructure, rethink, and reimagine them into something new. People are living longer and more actively; they're sexier, and their living spaces reflect that. Of course we take advantage of the [design and manufacturing] technology that's available today, but we use products that are found in nature or have been around forever. They have a strength and a boldness that, I think, makes them very alive.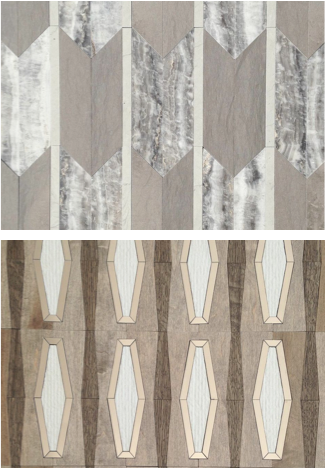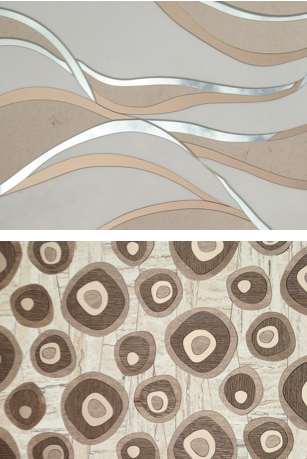 Marc Thee's Essence Collection of luxury tile uses various combinations of metal, wood, stone, and glass. The tile is appropriate for backsplashes, feature walls, and other applications.
Photos: Barbie Kennedy Designs
Barbie Kennedy: Designer tile can be an expensive component in a home, but I believe everybody can afford Barbie Kennedy Designs. If someone really wants this, they can have it if they use it in the right way.
So attainable, for me, means that everybody can afford a bit of luxury in their home, even if it's just a feature wall or a backsplash or whatever.
DI: Why should industry professionals take note of these new collections?
Kennedy: The tiles are flexible in color, scale, and style to appeal to interior designers, builders, and homeowners alike. They work for small-scale projects such as backsplashes or fireplaces as well as large-scale patterns over an entire wall or floor. Many designs work in wet environments and even exterior applications. Thoughtful color combinations allow for either a high-contrast look that delivers a powerful, unexpected feature wall, or tone-on-tone materials that provide a stunning yet subtle backdrop for any space.
Thee: Highly graphic forms are a huge trend, as well as high and low contrast. Some of the patterns are all stone so they can go into wet environments such as bathrooms. But there are also patterns designed for wall surfaces or backsplashes in a wet bar. The tile can be used to clad feature walls in media rooms, destination walls in vestibules, and bedroom walls.
As much as I would love the dollars and the sales, I wouldn't want a full bathroom clad in these tiles. It's not the type of thing I'd go crazy with. It's a design statement to be looked at as that one moment the other surfaces can complement or recede into the background.
DI: Has the new tile been featured in any residential installations?
Thee: Several patterns were featured in the New American Home at the 2014 International Builders' Show (see lead image). We did a flex space that was a little bit of a theater and a little bit of an upstairs lounge. Then there was a carriage house where the tile was used to showcase a creative moment—a kind of visual punctuation.
DI: Are these products intended for semicustom and production homes as well as for the custom-home market?
Thee: Think of fashion, where you have your runway show and everything tends to be a little couture … then it trickles down to ready-to-wear. My vision is that you kill it with a hook—with a new product that is alive and sexy and courageous and bold. Then you take those elements and incorporate them into something at a price point that a semicustom or high-end production home builder would embrace.
Kennedy: Another market we're targeting is the hospitality market. I really feel that hotels and restaurants are great avenues for us and our products.