House plans that can accommodate the varied definitions of today's family.
By By Larry W. Garnett, FAIBD, House Review Lead Designer | March 19, 2015
For years we've designed and built homes for the "average" family: a husband, a wife, and two or three children. But although statistics vary, it appears that this definition only describes about 25 percent of today's homeowners. The term "new family" is certainly open for discussion these days. As you may imagine, each member of our design team responded with his or her own interpretation through designs ranging from an interesting multigenerational three-story home to a compact 1,800-square-foot design with flexible interior and exterior options. The one design concept that's consistent in all the designs is flexibility. Whether the home focuses on young families, single parents, or aging Baby Boomers, all designs benefit from floor plans that have built-in options and the opportunity to easily reconfigure the home's layout for various requirements.
The Nelson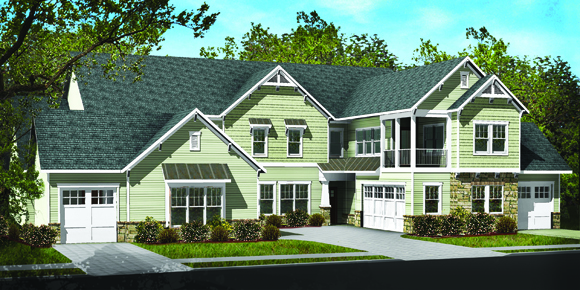 Developed for an infill site in Raleigh, N.C., this plan accommodates the needs of the "sandwich-boomerang family," that is, three generations living together in one home. Having three generations under one roof in an attached home can be a difficult proposition.
This home provides for the sandwich generation on the main floor with a main living area and a separate in-law suite for an older parent, while the Millennial boomerang generation has a private garage and separate living quarters on the second floor. The home allows for low-maintenance living and a smaller footprint while still providing high-quality indoor and outdoor areas for all.
The interconnected spaces and yards offer a great blend of privacy and togetherness for a large three-generation family to all live happily together under one roof.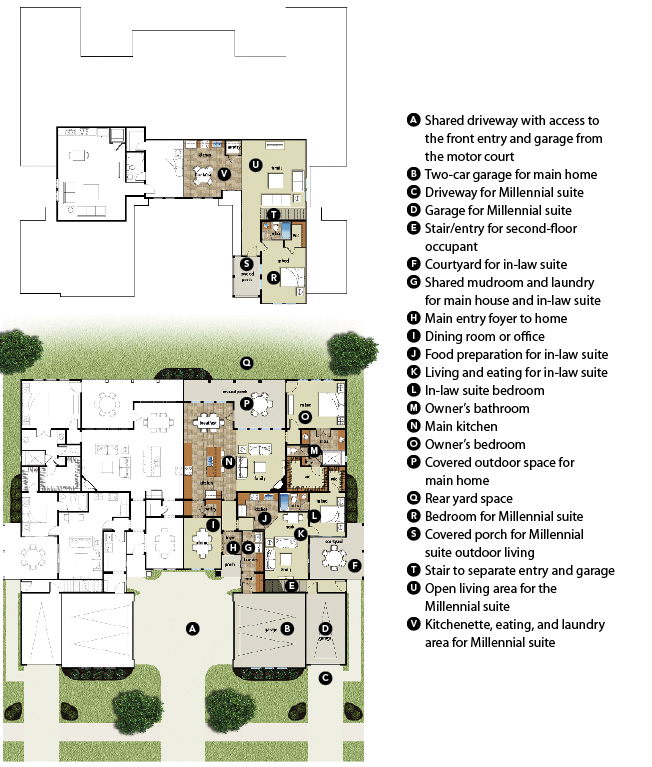 Architect
GMD Design Group
Scott Gardner, AIA
scott@gmddesigngroup.com
919.320.3022
­­Donnie McGrath
donnie@gmddesigngroup.com
770.375.7351
Multigenerational Plan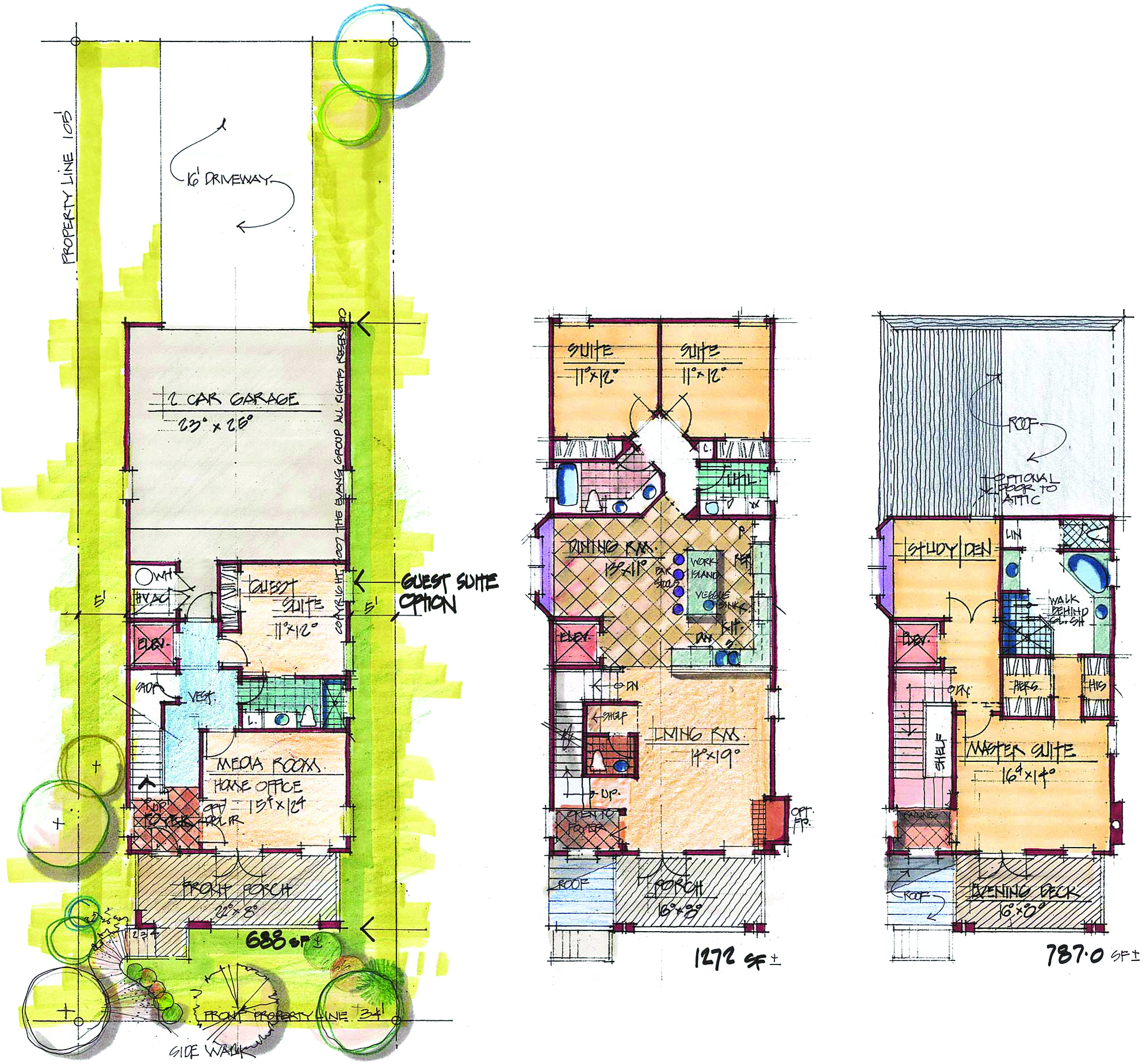 Today's family is returning to its roots when grandparents, parents, and kids all lived together. The concept makes sense today—financially and responsibly—just as it has throughout history. With 2,747 square feet in a 24-foot-by-55-foot envelope, plus an 8-foot-deep front porch, this three-story home provides enough space and privacy for three generations.
The first floor is for guests and grandparents. The media room can become their own private parlor/sitting room. The second floor is the family living level with a large living room and a powder room, a balcony, a kitchen with bar seating, and a dining room with built-in banquette option. The kids' bedrooms with a shared bath are also on this level. The third floor then becomes Mom and Dad's retreat, which includes a large study/den, balcony, his/hers walk-in closets, and gracious master bath. With three-story living, an elevator option is essential. Every level—and therefore every generation—has an outdoor space with its own porch/balcony. The streetscape shows the possible variations, making these homes look custom and distinctive.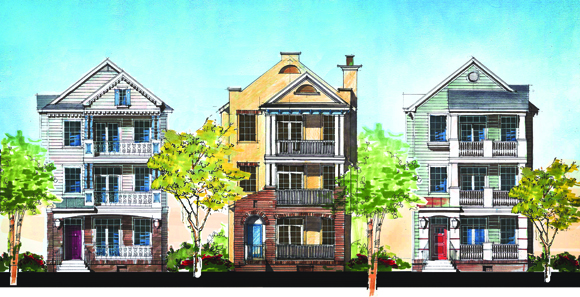 Architect
Donald F. Evans, AIA
The Evans Group
devans@theevansgroup.com
theevansgroup.com
407.650.8770
The Old Mill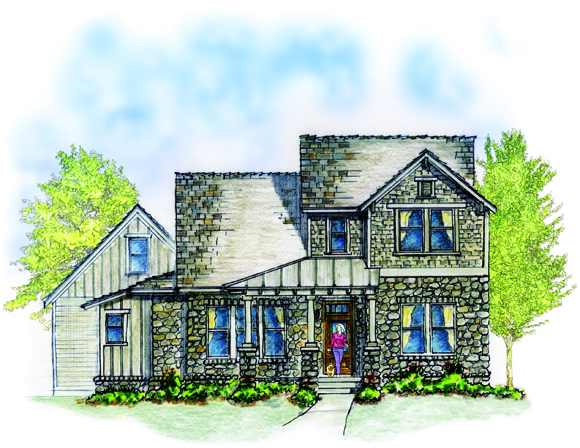 The key to any family home is flexibility. This design offers several elements that allow the home to easily adjust as needs change. For instance, the first-floor Bedroom 2 provides the perfect location for a new baby with easy access from the owner's suite. Later, this area transforms into an ideal study or home office by adding double French doors from the foyer. The open floor plan and logical traffic paths throughout the home will appeal to any family. Finally, the additional living space above the garage becomes a perfect game room, theater, or office.

Designer
Larry W. Garnett, FAIBD
larrygarnett@larrygarnettdesigns.com
larrygarnettdesigns.com
254.897.3518
Plan Size
Width: 51 feet 8 inches
Depth: 75 feet
Living area: 2,250 sf
Bonus area: 325 sf
The New Family Home

Most new families are budget-conscious. Although they want all the bells and whistles, the bottom line is critical. This home addresses budget by limiting the resources required to build the house. With a 1,200-square-foot foundation, this two-story plan can fit on a lot as small as 3,010 square feet.
The bells and whistles include a large great room with a kitchen that has direct garage access. On the second floor there is a flex space for office or play. One of the secondary bedrooms can be used as a loft or a playroom. The secondary bath is compartmentalized, and the laundry is adjacent to the rooms that generate the dirty clothes. The master suite has a generous closet and top-of-the-line bathroom.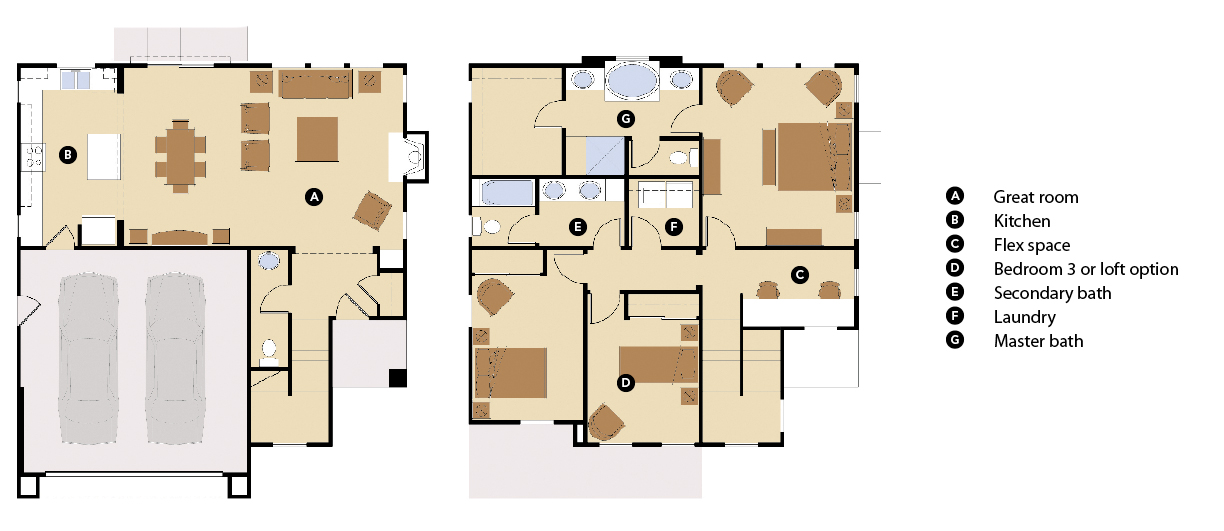 Architect
Richard Handlen, AIA, LEED AP
EDI International
richard.handlen@edi-international.com
edi-international.com
415.362.2880
Plan size
Width: 35 feet
Depth: 37 feet
Min. lot size: 43 feet by 70 feet
Paige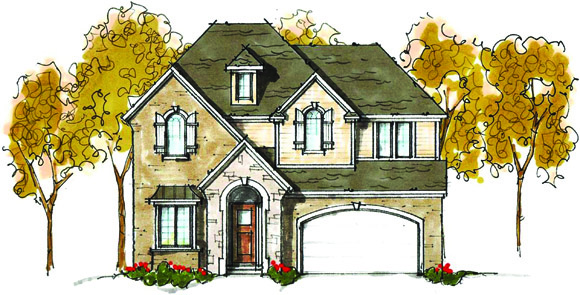 Designing for the new family can create distinct challenges for today's builders. The trick is figuring out how to anticipate the needs of today's modern family, which can mean different things to different people. Many of the builders we work with throughout the country employ the transformer strategy. The idea is simple. Instead of having an oversized plan portfolio with an abundance of designs, in an attempt to outguess the market, many builders are limiting the number of plans offered but making them extremely flexible.
This approach accomplishes two things. First, plan portfolios can be thinned out, making for much easier management. Second, the buyer is offered more choice relative to the way the family wants to live while giving the homeowner the opportunity to shape the design to the family's needs. Here's a look at a plan designed for Pinnacle Homes out of Southeastern Michigan.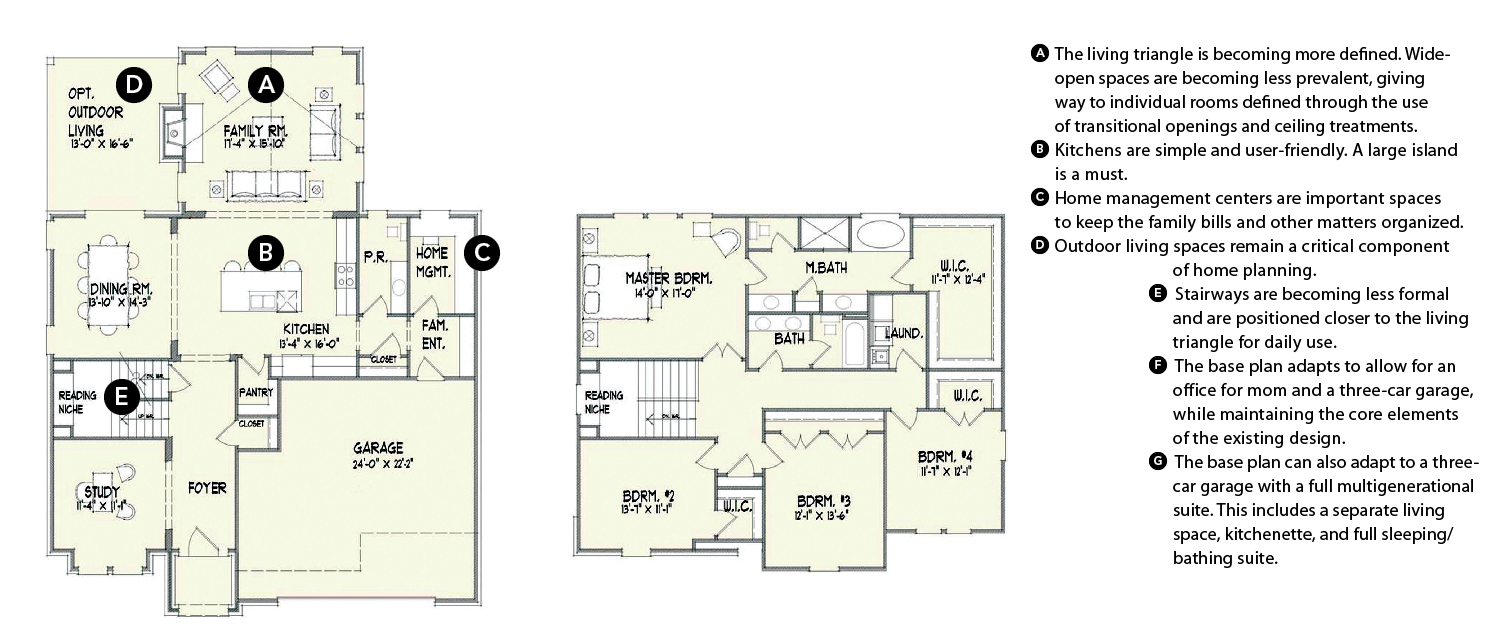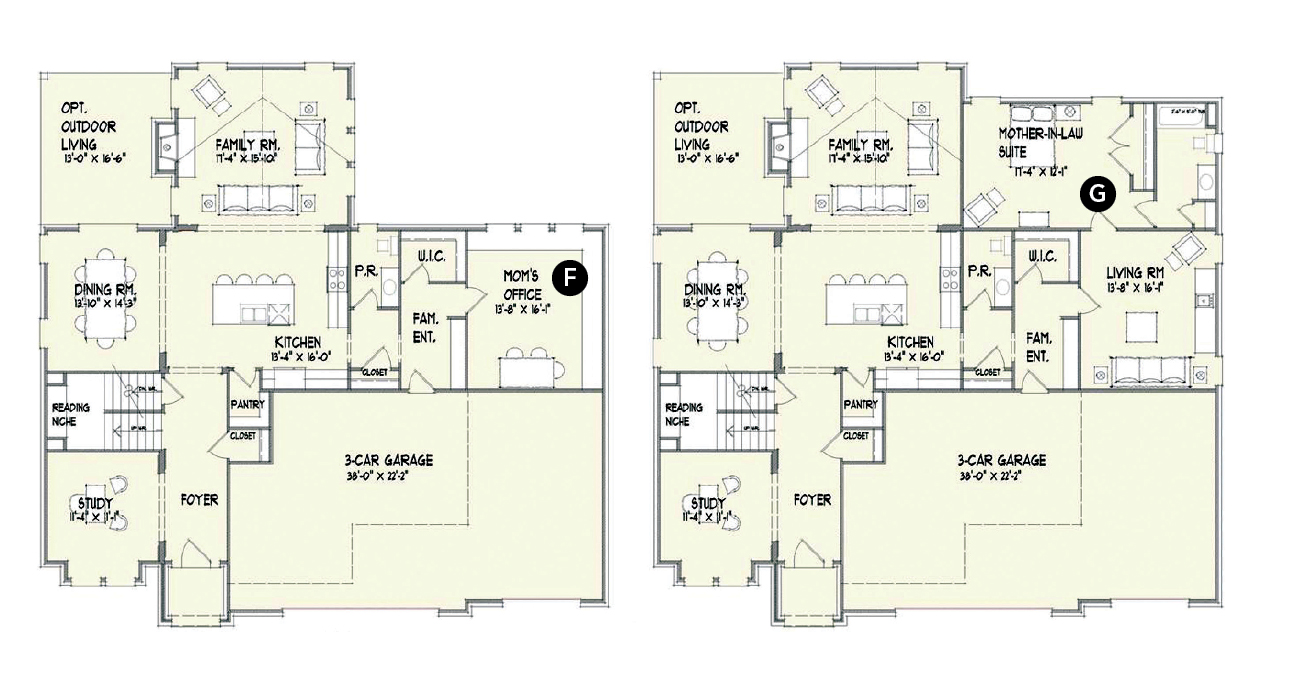 Architect
Todd Hallett, AIA, CAPS
TK Design & Associates
info@tkhomedesign.com
tkhomedesign.com
248.446.1960
Plan Size
Main level: 1,439 sf
Second level: 1,401 sf
Porches: 235 sf