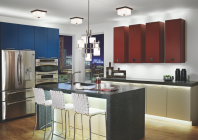 Kichler's TaskWork LED Tape Lighting offers an energy-efficient solution for brightness in rooms and even outdoor spaces with cabinets, walls, and flooring.

Leviton introduces a line of residential occupancy and vacancy sensors that combine state-of-the-art technology with a sleek new design to provide optimal management of lighting and motor loads.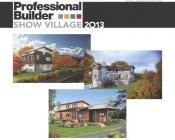 With a dual theme of "design innovation and attainable sustainability," the Show Village homes at the International Builders' Sh
With a dual theme of "design innovation and attainable sustainability," the Show Village homes at the International Builders' Show push the envelope when it comes to both modular housing design and ultra-green construction.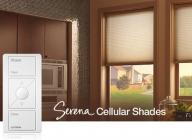 Lutron Serena Remote-Controlled Shades
These battery-operated shades from Lutron can be adjusted manually via remote control or programmed to different settings.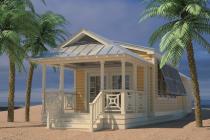 At a scant 528 square feet, the Eco-Cabana model from Palm Harbor Homes may be small in stature but it is mighty when it comes to green living. Designed to meet DOE's Builders Challenge energy performance requirements of sub-70 on the HERS Index, the model will be loaded with high-performance, sustainable features.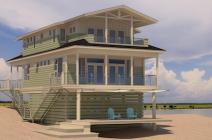 Measuring just 30 feet in width, the Sea Breeze model is designed specifically for narrow-lot, infill applications for just about any region or environment in the country — from coastal settings and mountainous areas to urban landscapes and traditional suburban neighborhoods.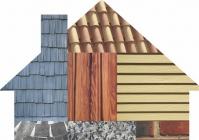 There are a number of reasons builders might make the decision to switch building products, materials, or systems. A different product may offer first-cost or labor savings over your current product. Or perhaps it will make your homes more energy efficient or green, and thus more marketable to potential buyers. Regardless of the reason, switching products does pose risks and challenges for builders.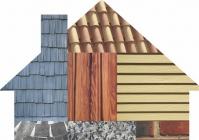 The editors of Professional Builder and Professional Remodeler magazines are in search of the latest "breakthrough" products for the residential construction industry for our annual 101 Best New Products report.

Deckorators' recessed, low-voltage lighting kit offers an elegant, subtle lighting option for walkways, steps or wherever better visibility is desired.
The new Design Pro LED Rail Lights by Kichler incorporate tiny LED chips that use 75 percent less electricity than typical incandescent lighting. The fixtures, which easily mount into existing wall or ceiling outlet boxes, offer the warm white light homeowners crave. Kichler says these LED lights will last an average of 40,000 hours or 20 years.
Pages