In the 2014 PulteGroup Home Index Survey (PGHI), 29 percent of respondents named the kitchen as the most important feature — but the master bedroom (not the bathroom) ended up in second place.
By Susan Bady, Senior Contributing Editor | November 10, 2014
Most people would agree that the kitchen and bathroom are the most important features of a home. In the 2014 PulteGroup Home Index Survey (PGHI), 29 percent of respondents indicated that the kitchen is the most important space. However, the master bedroom (not the master bath) came in second with 22 percent, followed by the living room with 18 percent.
"The master bedroom, in particular, was a surprise given that new-home designs promote family togetherness and entertaining space," says Valerie Dolenga, corporate communications manager for Atlanta-based PulteGroup. "People do value [those concepts], but they also value retreat space where they can get away from the noise and read a book or have a cup of coffee."
Another surprise is the desire for homes that are move-in ready. "People are looking for homes that they don't necessarily have to renovate," Dolenga says. "They want a space they can move into and enjoy immediately, and they're willing to pay for it."
Buyers are willing to compromise more than you'd expect in order to obtain their must-have home features. For example, 44 percent of respondents said they would give up a location near public transportation; 35 percent were willing to give up better schools; and 34 percent would give up proximity to entertainment and shopping.
The survey also noted emerging regional trends such as Jack 'n Jill bedrooms in the Midwest; balconies off kitchen and rooftop terraces in the Northeast; folding, accordion-style glass doors in the Southwest; and screened porches and multigenerational living spaces in the Southeast.
Wondering if Millennials still dream of homeownership? Dolenga has some encouraging news: 85 percent of Millennials want to buy a home, and 49 percent of those Millennials plan to do so within the next two years.
Pulte surveyed 1,004 Americans, ages 25-65, for the PGHI last March.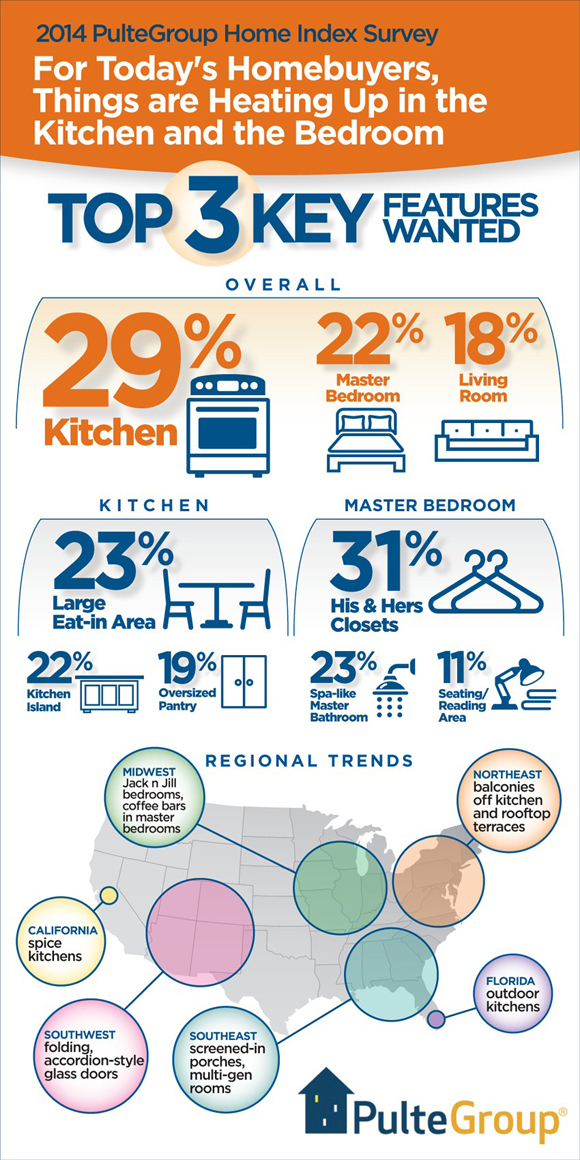 Pulte's 2014 survey reveals that home buyers value private retreats as much as kitchens that promote family time.